Angered by recent speculations that the lama lineage might die with him, Communist Party representatives accused the 14th Dalai Lama of betraying the Tibetan sacred tradition of reincarnation and warned that the decision does not lie solely with him.
Reincarnation in Tibetan tradition is an intricate and sacred practice in which a successor is chosen to become the next high-most spiritual leader of Tibetan Buddhists.  The ritual involves the visit to a sacred lake, where the Dalai Lama's closest aides search for divination.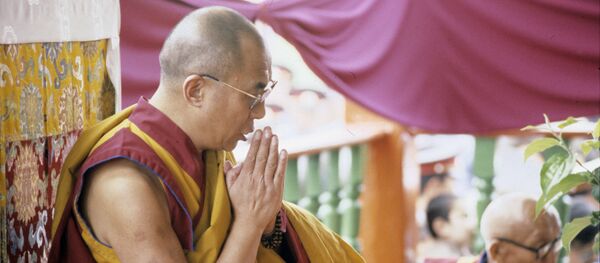 10 September 2014, 16:31 GMT
The incumbent Dalai Lama, exiled in India, is turning 80 this July and has experienced bouts of ailing health, making concerns about his succession even more urgent. The Chinese authorities hoped that the next Dalai Lama, chosen in Tibet, will assist in easing tensions in the region, as the spiritual leader of all Tibetans. However, the 14th Dalai Lama made it clear, he is considering other options.
"Whether the institution of the Dalai Lama should continue or not is up to the Tibetan people," he said in an interview with the BBC in December. "There is no guarantee that some stupid Dalai Lama won't come next, who will disgrace himself or herself. That would be very sad. So, much better that a centuries-old tradition should cease at the time of a quite popular Dalai Lama." 
This statement prompted a furious reaction from Beijing. Zhu Wiequn, who leads the ethnic and religious affairs committee of the Chinese People's Political Consultative Conference, accused the Dalai Lama of violating sacred Tibetan traditions.
"In religious terms, this is a betrayal of the succession of the Dalai Lamas in Tibetan Buddhism." He said. "The 14th Dalai Lama has taken an extremely frivolous and disrespectful attitude toward this issue. Where in the world is there anyone else who takes such a frivolous attitude toward his own succession?" 
"Decision making power," he added. "Over the reincarnation of the Dalai Lama, and over the end or survival of his lineage, resides in the central government of China."