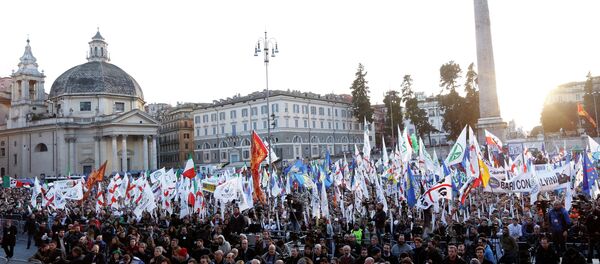 28 February 2015, 18:11 GMT
ROME (Sputnik) — Thousands of students took to the streets of the Italian cities Rome, Milan, Naples and Turin on Thursday to protest against a set of educational reforms introduced by the country's government, the Teacher Solidarity website reported.
"The school students of Italy are not fooled. They gathered in their thousands across Italy today… Their response to Renzi: 'If you block our future, then we will block the city!'" a statement on the website read.
The protesters marched in four of Italy's largest cities holding banners reading '12 March, a generation that will not surrender' and 'Stop Good School, a step backwards,' according to local media.
The student demonstrations in Italy took place ahead of the school reform bill being discussed in parliament later in the day.
The reform, known as 'the Good School,' was initiated by the government of Italian Prime Minister Matteo Renzi in autumn 2014. In particular, it is aimed at introducing private sector funding of schools, maintaining the system of increase in wages for teachers based on job seniority and bringing in unpaid apprenticeships for students studying technical subjects.
Opponents of the reform blame the government for attempting to privatize the school system.