MOSCOW (Sputnik) — More than 1.5 million people in Europe have signed a petition to prevent the European Union from entering in to a secretive trade alliance with the United States, activists say.
The Self-Organized European Citizens' Initiative, the group behind the petition, claims the proposed Transatlantic Trade and Investment Partnership (TTIP) is "a threat to democracy, the environment, consumers and labor standards."
The TTIP is a trade deal between the European Union and the United States intended, in part, to limit the legal consequences of entity actors in their global economic conduct.
© Sputnik / Vitaly Podvitskiy
To TTIP or Not to TTIP?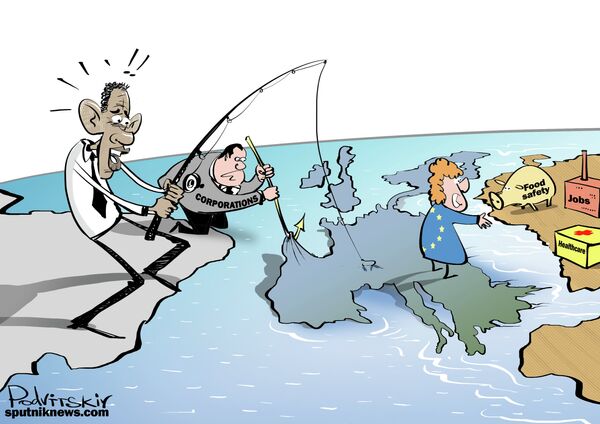 To TTIP or Not to TTIP?
© Sputnik / Vitaly Podvitskiy
According to the campaigners, the TTIP, currently being negotiated without ordinary government oversight, is specifically designed to overtly benefit corporations, not citizens.
The activists urged the European Union not to ratify a similar deal currently in negotiation with Canada.
A recent study conducted by the US Tufts University showed that ratification of the TTIP is likely to lead to the loss of up to 600,000 jobs in the European Union.
France could be among the worst-hit nations, with each French worker losing $5,800 of income potential annually.
The campaigners intend to continue collecting signatures and donations through October 2015, according to the group's website.