VLADIVOSTOK (Sputnik) — Andrei Kondrashov's movie, titled "Crimea. Way Back Home" highlights the much-discussed reunification of the Crimean republic with Russia after 60 years under Ukrainian rule.
Moscow refused to send troops to Ukraine despite the parliament's authorization, and the number of personnel at Russia's military base in Crimea was not exceeded, Russian President Vladimir Putin said in "Crimea. Way Back Home," a documentary on Crimea's reunification with Russia broadcast on Rossiya-1 TV channel on Sunday.
Crimea and the city of Sevastopol became parts of Russia following a referendum, in which over 96 percent of Crimean voters backed a move to reunify with Russia, prompting the West to slap the region with rounds of individual and economic sanctions.
"We did not even have to use the Federation Council's authorization to send our troops to Ukraine, I did not pretend. In accordance with the relevant international agreement, 20,000 people could be stationed at our military base in Crimea, and even more. Even given the number of personnel we added, we did not get 20,000."
Putin added that Russia had not actually violate any regulations.
Russia has deliberately positioned the K-300P (SSC-5) Bastion mobile coastal defense missile systems in Crimea so that they could be seen from space, President Putin said.
"Bastion is a defense system, which protects the coast and the territory. It does not attack, but it is an effective, modern, high-precision weapon… Yes, and at one point, so that it would be understood that Crimea is well-protected, we positioned these Bastion coastal systems there."
"Apart from the above, we deliberately positioned these defense systems in a way to be seen from space," he added.
Russian President Vladimir Putin said in a documentary on Crimea's reunification with Russia that the Kremlin had been ready to place its nuclear forces on alert if an "unfavorable scenario" in Crimea had unfolded.
Moscow was informed of "radical" Ukrainian authorities' readiness to carry out terrorist attacks in Crimea, targeting a large number of civilians, Putin added.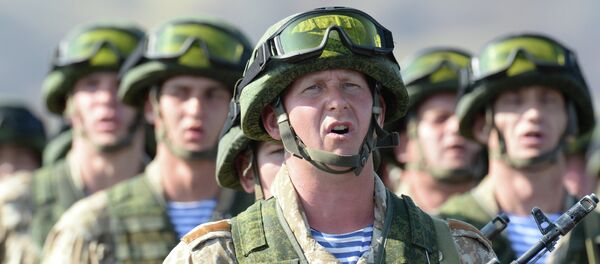 "There was some information that terrorist attacks could be carried out, and certain radical Ukrainian leaders, including of the security agencies, were ready to conduct some acts linked with large number of casualties," Putin said
The Russian leader stressed it was "in no way admissible" to allow bloodshed while providing the people of Crimean with the "opportunity to express their will" at the March 16, 2014 referendum on secession from Ukraine and reunification with Russia.
"To block and disarm 20,000 people, of course you need a certain set of personnel, and not just in terms of quantity, but also quality… So I ordered the Ministry of Defense… to deploy the special forces of the Main Intelligence Directorate [GRU], Marines and paratroopers under the guise of reinforcing our military facilities in Crimea," Putin said.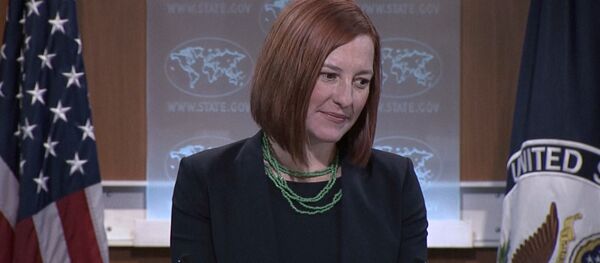 Vladimir Putin said he had never thought of "dismembering" Crimea from Ukraine until the February 2014 armed coup in Kiev.
"We cannot leave this area and the people who live there to whims of fate, to let the people of Crimea be thrown under the wheels of this nationalist bulldozer. I set certain tasks, I did say, what and how we should do, but immediately stressed that we would do so only if we are absolutely convinced that the people who live in the Crimea want it," Putin said.
Russia knew from the start that the United States is the real "puppeteer" behind the February 2014 Ukrainian coup, the Russian leader noted.
"Formally, the opposition was primarily supported by Europeans, but we knew very well… that the real puppeteers were our American partners and friends. It was them who helped prepare nationalists [and] combat troops."
The Russian president added that pro-Kiev combat units were also being prepared in Poland and Lithuania.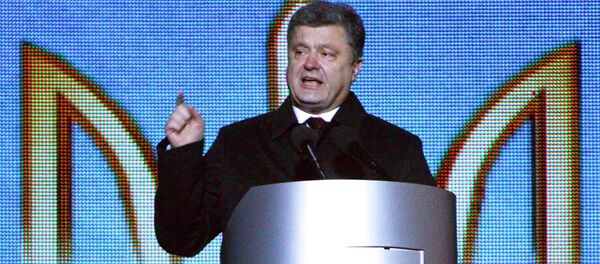 20 February 2015, 18:34 GMT
"What did our partners do? Abetted the staging of a coup. That is, they began operating from a position of strength. I do not think this is the best way of doing things," the Russian president said.
In last month's interview with the CNN, US President Barack Obama said the United States "had brokered a deal to transition power in Ukraine."
Organizers of last year's coup in Ukraine planned to seize power and physically eliminate then-President Viktor Yanukovych, Putin said in "Crimea. Way Back Home."
In November 2013, a political crisis erupted in Ukraine when the country's authorities announced a halt to its European integration process. Major protests began in Kiev's central square and soon spread across the country.
"It became known that not only his capture, but his physical removal was being prepared, as preferable to those who committed the coup. As the famous historic figure said – no man, no problem."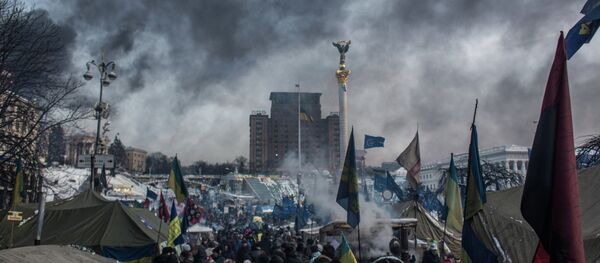 22 February 2015, 06:00 GMT
A February 2014 government coup in Ukraine, that came after months of protests, forced then-President Yanukovych to flee the country.
"I do not want to evaluate his work [Viktor Yanukovych's]. He said, 'I could not sign an order on weaponry use. I could not bring myself to do it.' Can we blame him for it? I cannot say. And I do not want to do it. I don't think I have a right to do so. Whether it is good or bad – the consequences of inactivity are grave. This is clear," Putin said as quoted by the All-Russia State Television and Radio Broadcasting Company, which broadcasted the documentary on Sunday.
Sanctions should be implemented against people responsible for government coups and their helpers, Russian President Vladimir Putin said.
"We acted in the interests of Russian people, and in the interests of the whole country. Changing this for money, for goods, for the possibility of some contracts or bank transfers is unacceptable."
The West tried its hardest to prevent Crimea's reunification with Russia following the last March's referendum, the president said.
"At first, they assumed that we might not dare to do it [reunify with Crimea]. Then, when they realized that we would not stop, they began to offer a variety of options, they tried their hardest to prevent the reunification of Crimea with Russia, by any means and in any format," Putin said when asked about what was the Washington and Brussels' opinion about the events on the peninsula.
The United States and the European Union have condemned Putin's insight into what they refer to as Crimea's "annexation." Jen Psaki, the US Department of State's spokesperson, said it was consistent with Moscow's "deceitful approach" to eastern Ukraine, although she confessed to having no idea of the film's exact contents.
Putin's interview has also stirred controversy in Kiev, with the Ukrainian prime minister urging the International Court of Justice at The Hague consider the footage as evidence of Russia's premeditated invasion.