KIEV (Sputnik) – Ukrainian President Petro Poroshenko has submitted a project to parliament to turn to the UN Security Council and the Council of Europe to deploy a peacekeeping mission in the country, according to information on the Verkhovna Rada's official website.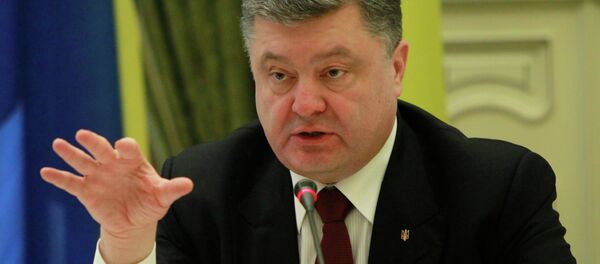 The proposed international peacekeeping mission may be deployed to Ukraine to maintain peace and security in the war-torn country.
Poroshenko first announced the idea to deploy UN- or EU-mandated peacekeepers to eastern Ukraine in February. UN Secretary-General Ban Ki-moon said the issue is up to the UN Security Council, while a number of Russian officials questioned Kiev's willingness to adhere to the Minsk agreements, which does not imply any peacekeeping force.
Ukraine's army and independence forces agreed on a ceasefire in Minsk last month. The deal obliged the warring sides to withdraw heavy weaponry from the front lines and charged the Organization for Security and Co-operation in Europe (OSCE) with monitoring the ceasefire.