BEIRUT (Sputnik) — On Sunday, US Secretary of State John Kerry said Washington will "in the end" have to negotiate with Damascus as its internal conflict enters its fifth year. Later, his spokeswoman moved to clarify that the state secretary was not referring to Assad directly and that the US administration's stance remained unchanged.
The Syrian leader rejected Kerry's comments as "bubbles that disappear" in time.
"Some developments warrant reiterating that the collapse of the regime's head and all those responsible for the crimes committed against the Syrian people is a key goal of the National Coalition," NCSROF spokesman Salem Maslat said in a statement.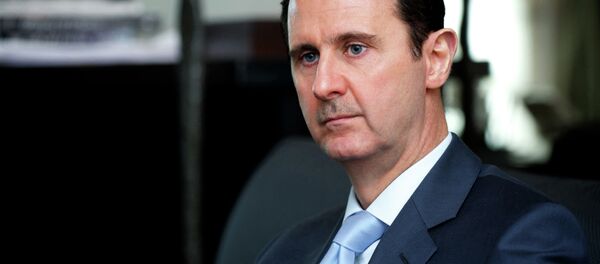 The NCSROF refused to take part in intra-Syria reconciliation talks held in Moscow late January.
The United States, along with a number of allied countries, has maintained and expanded a sanctions regime against Syria's economy and individual officials for over a decade.
On May 18, 2011, the United States announced sanctions against Assad over alleged human rights violations.