"What the SPD doesn't want, won't happen," Sigmar Gabriel told newspaper Sueddeutsche Zeitung. He said that his party, the Social Democratic Party of Germany, known as Sozialdemokratische Partei Deutschlands (SPD), will prevent any clauses in the US-EU trade deal that go against the ideals of the SPD.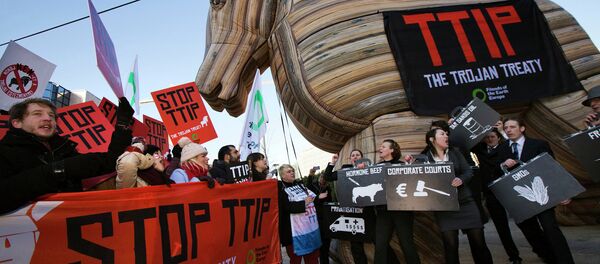 This includes protection clauses called for by the US in the Transatlantic Trade and Investment Partnership (TTIP) trade talks.
The Transatlantic Trade and Investment Partnership is a proposed free trade agreement between the European Union and the United States. The 'partnership' proposes to reduce barriers in the way for big business trade deals across the Atlantic.
The agreement between the European Union and the United States is scheduled to be finalised by the end of 2015. Critics of the TTIP agreement argue that the deal will increase the role and influence big corporations have over smaller states, driving down working conditions and environmental standards.
The European Parliament and campaigners against the alliance are concerned that a particular clause — the Investor State Dispute Settlement, would test Europe's laws on food, working conditions and the environment.
The conflict between the EU and the US regarding the TTIP deal centres on the use of judges to settle disputes between governments and companies that feel they have been treated unjustly. Protesters and politicians are concerned that the companies will be able to wield too much power over governments, undermining the rule of law.
Speaking out against the clause, Germany's deputy economic chancellor Sigmar Gabriel told Munich newspaper Sueddeutsche Zeitung:
"We won't accept any pressure for further liberalisation, or privatisation. We won't lower any social environment or consumer protection standards."
Gabriel went on to say, "And we will not — I am completely sure of this — see any privatisation of arbitration".
Supporters of the deal believe it will bring economic growth to the tune of $100 billion (92 billion euros) by increasing trade between the EU and the US. TTIP negotiations have mostly been carried out in secret.
Meanwhile a recent opinion poll suggests support for the EU-US trade deal is falling. According to pollsters Emnid, only 39 percent of people thought the TTIP was "a good thing".
Citing fears that the TTIP deal could fuel America's plan for global domination, more than 1.5 million people in Europe have signed a petition to prevent the European Union from entering into 'a secretive trade alliance' with the United States.
The Self-Organised European Citizens' Initiative claims the proposed TTIP deal is "a threat to democracy, the environment, consumers and labour standards".