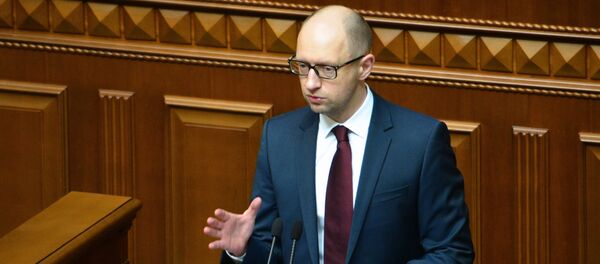 Ukraine's far-right nationalist party VO Svoboda held a protest rally in Kiev demanding the resignation of Prime Minister Arseniy Yatsenyuk.
The demonstrators held signs and chanted slogans such as "Oust oligarchs from power" and "Senya [Arseniy], remember Maidan."
In addition, apparently to convey a strong impression on Ukrainian policy-makers, and particularly, on Arseniy Yatsenyuk, the protesters brought a symbolic gold-colored bullet with the phrase "a bullet in the forehead" written on it.
The sign referred to Yatsenyuk's own words that he said during the Euromaidan turmoil in winter 2014. While urging the protesters to storm government buildings, Yatsenyuk claimed that he would never agree to "live with shame" preferring to die with honor with a bullet in his forehead.
The protesters remained peaceful throughout the rally.