Adel al-Jubeir said Saudi Arabia acted to "defend the legitimate government" of President Abd Rabbuh Mansour Hadi, who was toppled after the Houthi militia seized control of the Yemeni capital of Sana last September.
The military operation in Yemen started at 7 p.m. EST. It  began with airstrikes, but will also involve "other military assets," al-Jubeir said, adding that artillery from a coalition of more than 10 countries is en route to Saudi Arabia.
Saudi Arabia plans to involve 100 fighter jets and 150,000 servicemen in the coalition military operation launched against Houthi militia in Yemen on Wednesday, Al Arabiya reports.
Gulf Cooperation Council (GCC) members Kuwait, Bahrain, Qatar, UAE (United Arab Emirates), as well as Jordan, are also ready to provide aircraft for the military operation, according to the Saudi-owned TV channel. Jordan is also willing to take part in ground operations in Yemen, along with Egypt, Pakistan and Sudan.
Reports from the ground indicate that Saudi forces have bombed an office belonging to Houthi rebels in Sanaa's Jiraf area, with many casualties. Local residents say bombs from warplanes have completely destroyed the airport in Sanaa, which is now without power.
The airstrikes have caused the presidential complex in Sanaa to ignite in flames. President Hadi fled the complex and sought refuge in the seaport of Aden long before the operation was launched on Wednesday. His current location remains undisclosed.
Houthi TV is reporting dozens of civilian casualties in airstrikes north of Sanaa.
Five minutes after the bombardment had ceased, ambulances and police vehicles could be seen and heard cutting through the darkened streets of Sanaa.
"The Yemeni people are a free people and they will confront the aggressors. I will remind you that the Saudi government and the Gulf governments will regret this aggression," Mohammed al-Bukhaiti, a member of the Houthi Ansarullah politburo, told the Doha-based al Jazeera television. 
Saudi Arabia, the United Arab Emirates, Bahrain, Qatar, and Kuwait issued a joint statement saying that they "decided to repel Houthi militias, Al-Qaeda and ISIS (Islamic State) in the country."
The Gulf states said they were responding to a "major threat" to the stability of the region, saying that their cause is to "repel Houthi aggression" in Yemen.
"Having Yemen fail is not an option for us," Ambassador al-Jubeir said.
The Saudi Embassy in the US, in a series of tweets, said: "President Hadi requested immediate support – by all means necessary – including military intervention to protect Yemen and its people."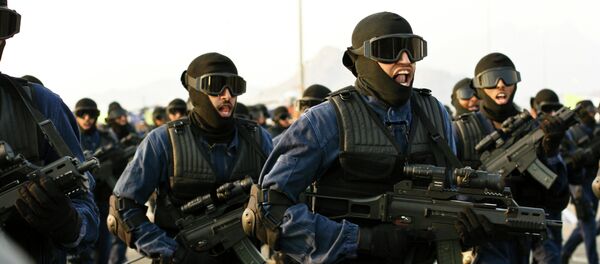 "Based on the appeal from President Hadi, and based on the Kingdom's responsibility to Yemen and its people. The Kingdom of Saudi Arabia, along with its allies within the GCC and outside the GCC launched military operations in support of the people of Yemen and their legitimate government."
Saudi Arabia coordinated with the United States prior to the operation, according an American official who spoke to Reuters.
After the airstrikes concluded, the White House announced that President Barack Obama has authorized logistical and intelligence support to the operation.
"While U.S. forces are not taking direct military action in Yemen in support of this effort, we are establishing a Joint Planning Cell with Saudi Arabia to coordinate U.S. military and intelligence support," a White House statement said.
At the same time, the US will continue to monitor terrorist threats from Yemen-based al-Qaeda, and will take action as necessary.
The Egyptian Foreign Ministry is currently coordinating with Saudi Arabia and the Gulf Cooperation Council over ground, naval and air forces, if they should be necessary.
As the conflict in Yemen continued to escalate, Saudi Arabia amassed heavy military equipment and artillery near the border.
Meanwhile, President Hadi's whereabouts remain undisclosed after the Houthis announced a $20-million bounty for his capture.
Yemeni Foreign Minister Riadh Yassin said Hadi was overseeing the city's defense from an undisclosed safe location. The Associated Press reported that he had fled the country on a boat.
Jen Psaki, the US State Department spokeswoman, said US diplomats "were in touch" with Hadi early Wednesday and that he had "voluntarily" left the compound where he was seeking refuge.