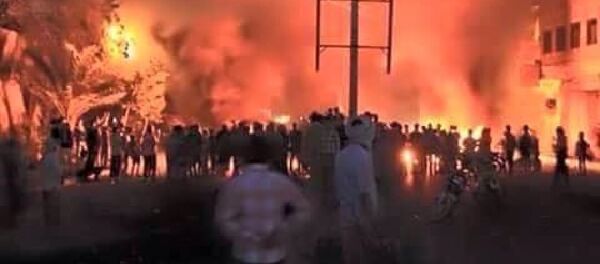 SANAA (Sputnik) — Yemen's Ministry of Higher Education and Scientific Research has suspended classes in all secondary schools in the capital city Sanaa, Supreme Council for Universities head Muhammad Fadli said in a statement Thursday.
Earlier in the day, local security and medical sources told Sputnik that over 20 people had died and more than 30 were wounded in the north of Sanaa as a result of airstrikes conducted by a Saudi Arabia-led international coalition against the Houthi militia.
The Shiite Houthi tribal group have taken control of large areas in Yemen, including Sanaa. The militants also reportedly control most of the country's military, including the air force.
According to the official, the authorities will decide on a resumption of the educational process basing on developments.
He added that the decision was made in order to ensure the safety of school students during airstrikes.
On Wednesday, Saudi Arabia and a number of other Arab nations launched a military operation against the Houthis in Yemen following a request for support from beleaguered Yemeni President Abd Rabbuh Mansur Hadi. The president resigned after his palace in January was attacked but subsequently disavowed the move.