A pair of electrical engineering students from George Mason University turned their final project into a patented, revolutionary product. After no less than 3 prototypes, and $600 of their own money, Viet Tran and Seth Robertson developed a portable, 20-pound backpack bass capable of extinguishing a small blaze.
"My initial impression was that it wouldn't work," their mentor, Professor Brian Mark, said in a press release. "Some students take the safe path, but Viet and Seth took the higher-risk option."
The device uses low-frequency sound waves to alter air velocity around the flame, thus robbing it of its fuel.
"…It's low-frequency sounds – like the thump-thump bass in hip-hop that works," Tran said in a press release. 50 Cent, he said, could probably put out a fire.
They're not the first ones to toy with the idea. DARPA, the Pentagon's zany research arm currently developing some of the most revolutionary technology on the planet, built an acoustic flame suppressor, but it wasn't exactly practical. Too large to be portable, that device consisted of two large sound tubes which then blasted the fire from two side.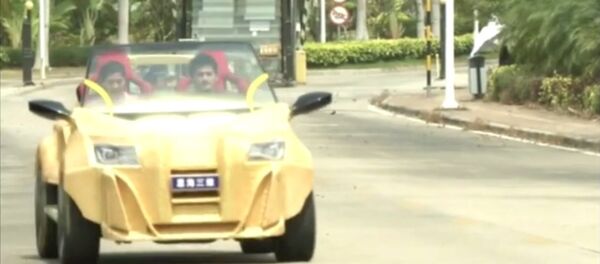 Tran and Robertson's machine is still in the prototype phase, but already miles above DARPA's. And a portable, acoustic extinguisher could have a huge number of uses. Grease fires are an obvious example, but there are others.
"Fire also is a huge problem in space," Tran says.
"In space, extinguisher contents spread all over," Robertson adds. "But you can direct sound waves without gravity."
The device could, theoretically, also be attached to drones in the future. These drones could potentially reach areas that are too difficult – or dangerous – for humans.
But again, we'd like to stress that yelling at your own grease fire can only be considered a bad idea.