UNITED NATIONS (Sputnik) — The UN Security Council extended UN arms embargo in Libya until April 2016, but called on Libya Sanctions Committee in a separate resolution to consider possible exemptions to the existing ban.
In February, Libya urged the UN Security Council to lift the ban imposed back in 2011 in order to be able to deal with Islamic State insurgency which is advancing in the country.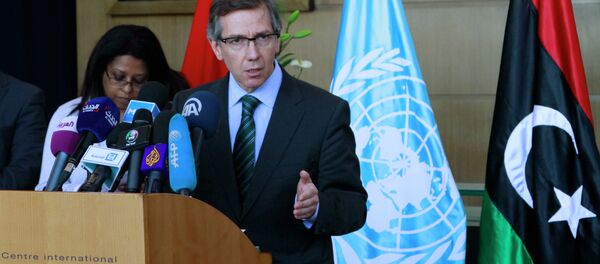 The resolution on counter-terrorism, introduced by Jordan and adopted on Friday, called on the Security Council's Libya Sanctions Committee to expeditiously consider exemption requests for the transfer or supply of arms and related materiel to the Libyan government for its use against Islamic State.
The resolution calls on the Committee to consider expeditiously requests to the Libyan Government "for the use by its official armed forces to combat ISIL, groups that pledged allegiance to ISIL, Ansar Al Charia, and all other individuals, groups, undertakings and entities associated with Al-Qaida operating in Libya, and urges relevant states to provide relevant information for such a request."
Libya has been in a state of civil war since 2011, when country's leader Muammar Gaddafi was ousted and killed after a 42-year rule. The country currently has two rival governments, with the self-proclaimed government controlling the Libyan capital of Tripoli and adjacent western areas. The internationally recognized government is battling insurgent groups, including Islamic State militants.