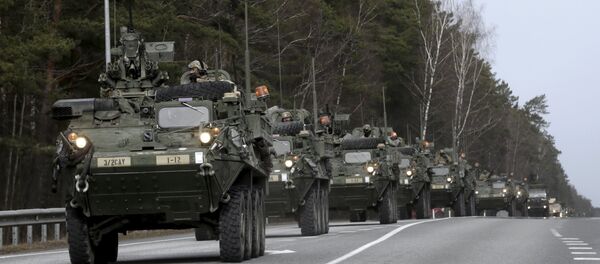 PRAGUE (Sputnik) — One of the US Army Stryker armoured vehicles broke down in the Czech Republic as US military convoy is passing through the country's territory on its way from drills in Baltic states, Czech news outlet Novinky reported on Sunday.
On Sunday a US military convoy of 520 troops and 118 units of heavy armoured vehicles, mainly Stryker and Humvee, entered the territory of Czech Republic on its way from exercises in the Baltic states to a US base in Germany. The convoy currently moves in three groups.
"One of the groups [of vehicles from US Army convoy] was forced to stop as a Stryker armoured vehicle broke down. It proved impossible to fix it on the spot and the column continued moving. The broken Stryker will be later towed to the town of Vyskov where the Americans are planning to stay for the night," Novinky said.
The passing of a US convoy through the Czech territory triggered opposing emotions among the locals, with some cheering the troops and others, including the members of the local Communist Party and World without Wars and Violence movement, staging Anti-NATO rallies.