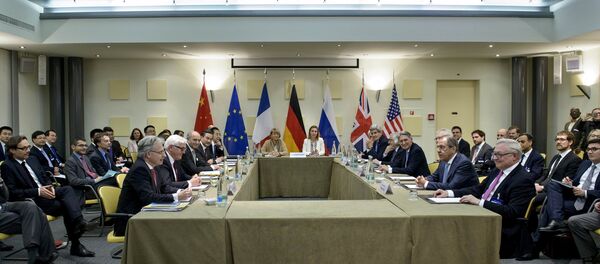 LAUSANNE (Sputnik)
–
The exact number of centrifuges for Tehran's peaceful nuclear program will be specified after the March deadline, a source in the Iranian delegation told Sputnik on Monday.
"It is not final yet," the source said in regard to the number of centrifuges that Iran would be able to operate under the deal.
He said that the figures cited in media reports, which are approximately 6,000 centrifuges, are close to those discussed by the P5+1 group.
"Today, we can maybe agree this under a solution, but details should be worked out later on it," the source said.
The source said the P5+1 and Iran continue their work, adding that it is not clear whether the Western anti-Iran sanctions could become a problem for the nuclear deal.
The latest round of talks on Iran's contested nuclear program is taking place in Lausanne. Tehran and P5+1 group, comprising the United Kingdom, France, China, Russia, the United States and Germany, have held several rounds of negotiations since November 2013.
The West is trying to get Iran to limit its uranium enrichment, so that there is a guarantee that its nuclear program is not aimed at developing nuclear weapons.
Initially, Tehran insisted on having at least 10,000 centrifuges, but in February the United States proposed to cut this number to 6,500.
Iran and the P5+1 group have held several rounds of talks on Tehran's nuclear program in recent years with limited results. A long-term agreement has to be reached by July 2015.