Democratic Senator Bob Menendez of New Jersey will resign as ranking member, or top Democrat, on the US Senate Foreign Relations panel, Senate aides said on Wednesday, and Menendez's press secretary announced he would appear in court in Newark on Thursday.
The senator has denied all allegations of wrongdoing. Speaking to reporters in Newark on Wednesday, Menendez said he was "outraged" that prosecutors had been tricked into pressing the charges for political motives in an attempt to silence the senator.
"I will be vindicated," he said, "and they will be exposed."
The charges against Menendez stem from corruption allegations in regards to his relationship with a Florida-based ophthalmologist, Salomon Melgen.
A top member of the Senate Foreign Relations Committee, Menendez faced allegations of using his position to grant political favors for Melgen. The ophthalmologist had contributed $700,000 to Menendez's 2012 Senate race, according to government watchdog Open Secrets.
A joint investigation by the FBI and DOJ investigated a series of flights Menendez had taken to the Dominican Republic at Melgen's expense. The Senator allegedly manipulated the US Customs and Border Protection agency to accept a contract from one of Melgen's companies.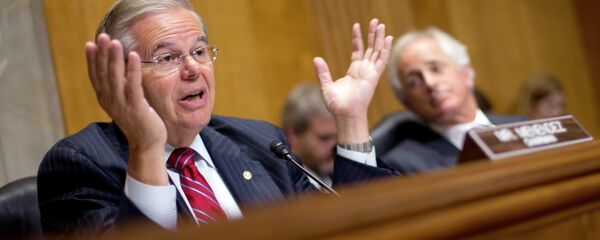 The charges also relate to the fact that Melgen was one of the main recipients of Medicare reimbursements after Menendez advocated on his behalf. A federal audit showed that Melgen had overbilled the government by $8.9 million for both Medicare and Medicaid payments.
On Monday, the Associated Press reported that federal charges could also be brought against Melgen.
The Senator has maintained that he hasn't done anything illegal, and that he has no plans to vacate the Senate.
"We believe all of the Senator's actions have been appropriate and lawful and the facts will ultimately confirm that," Menendez's press secretary Tricia Enright said in a press release earlier this month, when the DOJ first announced its intention to pursue an indictment.
Before the Senate, Menendez spent 13 years in the House of Representatives. A leading Democrat, he has been a strong ally of the White House.