WASHINGTON (Sputnik) — The number of unaccompanied children crossing the US southern border in 2015 will be the second highest on record, the Migration Policy Institute (MPI) told Sputnik.
"We are projecting lower numbers than last year, based on the patterns seen for the fiscal year to date (October-February), though this year is likely to be the second highest," Migration Policy Institute Director of Communications and Public Affairs Michelle Mittelstadt said on Wednesday.
The MPI named lack of economic opportunities, increase in violence in Central American countries and the desire to reunite with family members residing in the United States as three main reasons for the increase in immigration of minors.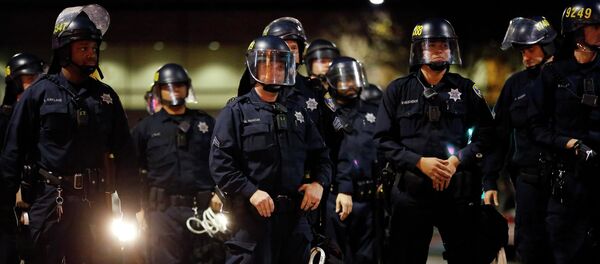 The number of child arrivals increased by 77 percent in the period between 2013 and 2014, according to the think tank's data. Almost 70,000 children were apprehended at the US border with Mexico in 2014.
The Institute noted that the surge has been driven by minors arriving from Central America, whereas the number of Mexican children entering the country has remained flat in past years.
"So far in Fiscal Year 2015, there have been 11,954 minors referred to us by DHS [US Department of Homeland Security] for our Unaccompanied Alien Children program," US Administration for Children and Families Deputy Director for Public Affairs Kenneth Wolfe told Sputnik on Wednesday.
Overall, the MPI predicts about 40,000 apprehensions in 2015. The fall has been driven by lower numbers of Hondurans and Salvadorans, the think tank's data showed.
However, the think tank noted that child arrivals follow seasonal patterns, and the numbers can increase throughout March, April and May.
The MPI underscored that despite overall decrease in apprehensions throughout the United States, western sectors of the US-Mexico border, including San Diego, see an increase of unaccompanied minors.
The Institute argued such a tendency might mean children are adapting to increased border enforcement.
Unaccompanied minors continue to cross US southern border despite past US Administration claims that it has solved the illegal children immigration crisis, and US President Barack Obama's pledges to speed up the process of sending illegal immigrants back.
The Migration Policy Institute is an independent non-profit think tank based in Washington, DC that studies the movement of people worldwide.