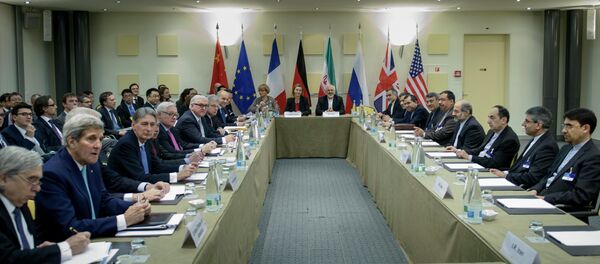 LAUSANNE (Sputnik) – Significant progress has been noted in the P5+1 and Iran talks on nuclear energy, but no final results have been reached yet, Iranian Foreign Minister Mohammad Zarif said Thursday.
"We have made significant progress. We don't have any final result yet," Zarif told journalists in Switzerland where talks on Iran's nuclear ambitions have been underway for several days.
He said that there is still plenty of work ahead in drawing up a final agreement, but sounded hopeful that a result would finally be reached.
"What we expect at this stage is we hope to set out parameters of resolutions for the issues that need to be resolved in order to write, draft, and hopefully agree on a comprehensive plan of action which would be a final program," Zarif added.
The minister added that a joint statement will be made by him and EU foreign policy chief Federica Mogherini, if negotiations are successful.
Earlier on Thursday, a US State Department spokesperson stated that ongoing talks on the Iran nuclear issue in the Swiss city of Lausanne stopped for a few hours after a night of negotiations, resuming later in the day.
The Lausanne round of negotiations began March 19. Iran and the P5+1 group of international mediators, which includes Russia, the United States, France, China, the United Kingdom and Germany, were supposed to reach a political framework agreement on Tuesday. However, the talks continue as the parties have not yet come to an agreement.
The West, which fears that Iran is developing nuclear weapons under the guise of a civilian nuclear energy program, wants Tehran to halt its uranium enrichment program and decrease the number of centrifuges in the country.
Tehran, in turn, wants Western sanctions imposed against Iran over its nuclear activities to be fully lifted as part of the deal with the P5+1.