According to an al-Shabab spokesman, gunmen singled out Muslim students and let them go. He did not say how many people were taken hostage, but Kenya's National Disaster Operation Center said that only 280 out of 815 students were accounted for.
280 of 815 students have been accounted for. Efforts are underway to track the others — CS Nkaissery #GarissaAttack

— Disaster Operations (@NDOCKenya) 2 апреля 2015
Militants, affiliated with al-Qaeda, launched an attack on the university, located on the border with Somali, early on Thursday. The battle to free the building is ongoing.
The pre-dawn attack left at least 15 people killed and 65 injured. Four people are in critical condition. They were taken to the capital of Kenya, Nairobi, for treatment.
Kenya's security forces said they arrested a person they suspect took part in the attack on the university. The suspect allegedly tried to flee the scene.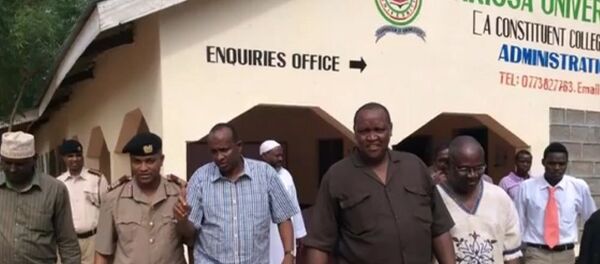 Al-Shabab took over most of southern Somalia in 2006 and later advanced to the central areas of the country. In 2011, Kenya declared war on the militant group and sent troops to Somalia. Since then, al-Shabab has launched numerous attacks in Kenya's northeastern regions.
More than 60 Kenyans were killed in towns near the Somalian border in the last two months of 2014. The largest al-Shabab attack took place in September 2013 when militants attacked the Westgate shopping center in Nairobi. Sixty-seven people were killed in the assault and 175 others sought medical assistance.