The operation marks the first time the Chinese military has helped other countries evacuate their citizens from a war zone. A statement released by the China's Ministry of Foreign Affairs said evacuees were picked up from Aden, Yemen's second city, and transported across the Red Sea to Djibouti, from where they can take flights home. The naval frigate was redirected there from the coast of Somalia, where it had carried out anti-piracy patrols.
The evacuees consisted of nationals from 10 different countries, the majority of whom were Pakistanis, at 176. Chinese State television showed the foreign nationals aboard the naval frigate arrive to Djibouti, with footage showing children stepping off the warship and waving Chinese flags.
Speaking to the Associated Press, foreign ministry spokeswoman Hua Chunying said "the Chinese government has taken special action to help with the evacuation of foreign citizens."
According to the foreign ministry's statement, the operation came after the governments of Pakistan, Ethiopia, Singapore, Italy, Germany, Poland, Ireland, the UK, Canada, and Yemen requested China's help.
China has used its warships once in the past for a similar operation, when in 2011 it evacuated 30,000 people from a war-ravaged Libya. However, at the time, China had only evacuated its own citizens from the conflict zone.
The recent operation is illustrative of the ongoing transition in China's role in the international community, whereby the once-reclusive country is becoming increasingly active in humanitarian aid and relief abroad.
The country drew international praise last year after it sent troops to Liberia to help build a treatment center and transport medical supplies in response to the Ebola outbreak. In 2013, Beijing also sent a hospital ship to the Philippines in the aftermath of the Typhoon Haiyan.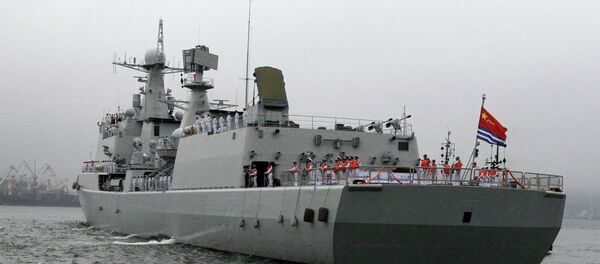 "China has been keen to learn from the experience of other countries on how to evacuate people, especially after Libya," A senior Western diplomat in Beijing said to Reuters. "It's good to see China taking more of an interest in this."
Yemen has become the site of intense conflict since last September, when Iran-back Shiite Houthi fighters seizes the capital city of Sanaa from Saudi and American-backed President Abd-Rabbu Mansour Hadi. A Saudi led bombing campaign against Houthi forces has plunged the country into more violence, as UN reports estimate that over 500 people have been killed in the past two weeks and more than 1,700 injured.