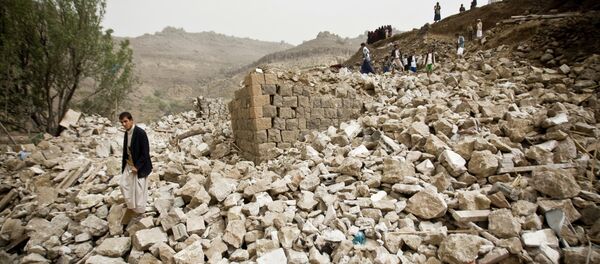 CAIRO (Sputnik)
–
Moscow should put pressure on supporters of former Yemeni President Ali Abdullah Saleh to stop violence in the country, Yemen's Foreign Minister Riyadh Yassin told Sputnik on Saturday.
Yassin maintains that Houthi rebels who are now controlling large parts of Yemen are allied with Saleh.
"[Russia should] exert pressure on Houthis and Saleh's supporters to make them cease fire, violence against civilians, as well as stop attacks on Aden and other cities," the foreign minister said.
Yassin said President Abd Rabbuh Mansur Hadi's government supported urgent humanitarian measures proposed by Russia and expressed hope that Moscow would do its utmost to stop the war.
Earlier on Saturday, in an interview with the Asharq Al-Awsat newspaper Yassin called on Yemeni political figures and former officials thought to be Saleh's allies to back Hadi and stop escalating the conflict.
The humanitarian situation in Yemen deteriorated, as the Saudi-led international coalition started to carry out airstrikes on Shiite Houthi positions following the request of Hadi, who had fled the country.
Despite the strikes, Houthis continue to make advances in the southern port city of Aden, clashing with forces loyal to Hadi.