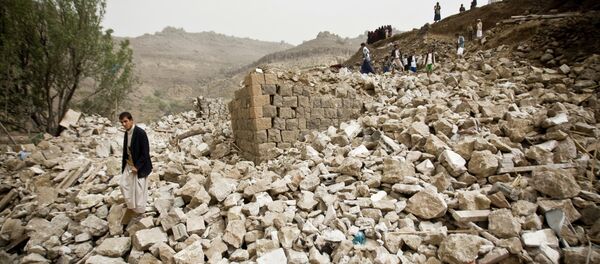 UNITED NATIONS (Sputnik)
–
Russia did not use the passenger planes that evacuated people from Yemen to deliver "military equipment" to Houthi fighters, Russia's Deputy Permanent Representative to the UN Vladimir Safronkov said Saturday.
"We are not doing it," Safronkov said commenting on the question concerning the possibility of Russia delivering military aid to Houthis.
Earlier in the day, Yemeni Foreign Minister Riyadh Yassin told Sputnik there was information about alleged military supplies for Houthi fighters delivered on Russian planes used for the evacuation of civilians from the country. The minister said Yemeni authorities would like Moscow to clarify this information.
On Saturday, Russia convened UN Security Council consultations on the establishment of a regular mandatory humanitarian pause in Yemen.
At the meeting, Russia presented a draft resolution to the council calling for a humanitarian pause in the airstrikes conducted by the Saudi Arabia-led coalition of countries against Houthi fighters in Yemen.
The population of Yemen has been suffering from the clashes between Houthi forces and troops loyal to President Abd Rabbuh Mansur Hadi. Saudi Arabia and a number of other states have been carrying out strikes against Houthis following Hadi's request for military aid in late March.
The country is also facing a threat of al-Qaeda militants operating in Yemen's south.