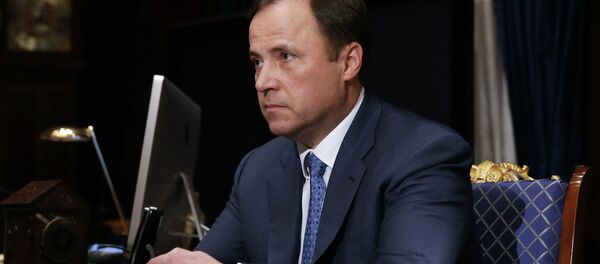 Managing to reach a compromise with striking workers over wage arrears which may have been embezzled by one of the subcontractors charged with the construction of the site, Rogozin promised that the situation will not be allowed to repeat itself.
"I will do absolutely everything in my power to prevent these kinds of abhorrent situations from recurring, which tarnish this great construction project," Rogozin stated, as cited by Russian television channel NTV.
On Saturday morning, over two dozen workers from the construction company Stroyindustriya staged a hunger strike at the Amur Region construction site in the Russian Far East; a hundred more came out to strike over the non-payment of salaries.
On Saturday night, Rogozin reported that he had talked to the striking workers by phone. The deputy prime minister tweeted that "the guys promised to go back to work. I'll punish their offenders."
A striking worker participating in the hunger strike told Russian business newspaper Kommersant that the strike had achieved its goals, and that having talked to the deputy prime minister, "we understood that these organizations are now under investigation." The worker noted that Rogozin "promised to deal with the contractors," adding that he and his coworkers have faith in the deputy prime minister's promises to deal with the situation.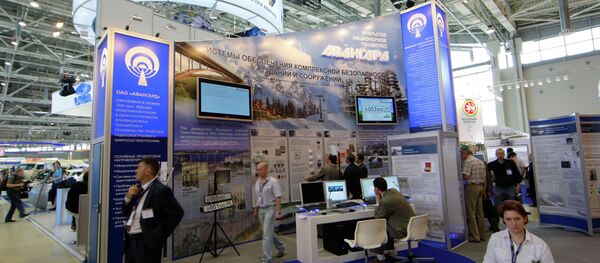 Russian media noted late last month that subcontractor Stroyindustriya owed workers over 14 million rubles ($245,000 US) in back pay. Three hundred of the site's 5,700 workers were said to have been owed up to 140,000 ($2,500) each.  Ideal Ltd., the contractor in charge of the site's construction, has stated that it has terminated its agreement with Stroyindustriya. Ideal Deputy CEO for economic security Oleg Dokuchayev told local media the company also "immediately informed [federal building agency] Dalspetsstroy and Amur regional law enforcement and prosecutors about this situation."
Earlier this month, Lenta.ru reported that Dalspetsstroy could not provide the General Prosecutor's Office with details on 16 billion rubles ($281.6 million) worth of funds allocated for the site's construction. Komsomolskaya Pravda explained that up to 1.8 billion rubles ($31.7 million) may have been stolen by Dalspetsstroy's former administrators, adding that up to 500 million rubles ($8.8 million) of the stolen funds may have been spent on the construction of a shopping center in Khabarovsk, while another 400 million ($7 million) could have been pilfered via schemes known as 'one day firms'.
Space jokes http://t.co/mJKLUOWRpb Builders' "jokes": Instead of Cosmodrome "Vostochny" - a shopping mall in Khabarovsk?

— Dmitry Rogozin (@DRogozin) 2 апреля 2015
Last month, Deputy Prime Minister Rogozin stated that he would take personal control of the situation, commenting that he would "not allow any sabotage" to the project, and adding that he would "simply rip [the] heads off" of those charged with stealing state funds. "Those who try to steal public money from the spaceport will be locked up," Rogozin said.
The construction of main facilities of Cosmodrome Vostochny launching minimum is under constant video control pic.twitter.com/UwsPhlqlSY

— Dmitry Rogozin (@DRogozin) 30 Март 2015
Rogozin will enhance control at Cosmodrome Vostochny construction http://t.co/JL3KFpXa9J Control over (cont) http://t.co/rBRWLD7byl

— Dmitry Rogozin (@DRogozin) 2 апреля 2015
Roscosmos Head Igor Komarov noted earlier this week that as a result of scandals and delays, construction of some of the facilities at the spaceport have fallen up to 120 days behind schedule.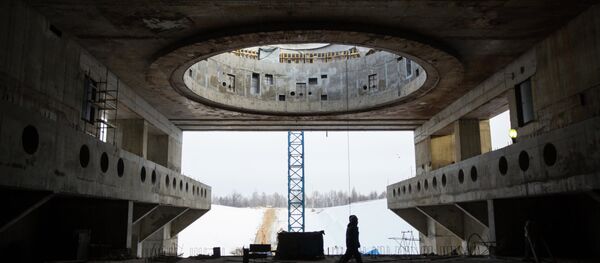 27 February 2015, 05:41 GMT
Vostochny, which will serve as the flagship of Russia's space ports, has been under construction in the Russian Far East's Amur Oblast since early 2011. The project, set to be completed in 2018, will reduce Russia's dependence on the grand old Soviet Baikonur Cosmodrome in Kazakhstan. The spaceport is presently set to begin launches in December 2015, with the first manned flight scheduled for 2018.
Russian space agency Roscosmos plans to move 45 percent of its space launches to Vostochny by 2020, with the Plesetsk Cosmodrome, located in northwestern Russia 200 kilometers south of Arkhangelsk, near Finland, will account for another 44 percent, thus reducing Baikonur's share of Russian launches to 11 percent, and increasing launches from Russian territory from 25 percent today to 90 percent by 2030.