SANAA (Sputnik) — The Saudi-led Arab coalition continued on Sunday to pound Houthi rebels' positions in two strategic port towns in western and southern Yemen, military sources told Sputnik.
One airstrike "targeted al-Salif port in al-Hudayda province in western Yemen, and al-Hudayda military airport, despite it being bombed several days ago," a military official said.
He added that massive blasts were heard from a long distance away. There has been no information on casualties.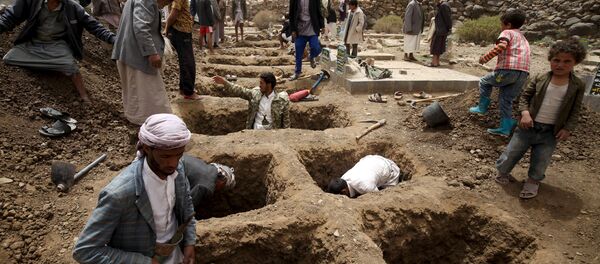 A combined assault involving Arab Navy and Air Forces was launched Sunday against the Houthi-controlled town of al-Mualla in Yemen's southern Aden province, which has been a stronghold of forces loyal to Yemeni President Abd Rabbuh Mansur Hadi.
A security source in the city of Aden told Sputnik that, "Houthi positions in Aden's al-Mualla port are under heavy shelling from the coalition's air forces, while its warships are bombing it from the sea, just hours after Houthis took it under their control."
Intense clashes broke out between Houthi fighters and pro-government resistance forces, the so-called Popular Committees, as well as armed militias formed from local residents, the source said. Casualties have been reported on all sides.
Yemen is being torn apart by an armed conflict between Houthi rebels making advances in the country and various forces loyal to Hadi, who fled the country when insurgents advanced on Aden.
A Saudi-led international coalition has been carrying out airstrikes against Houthi positions since March 25.