MOSCOW (Sputnik) — Firefighters have filled the space between the hulls of a nuclear submarine in Russia's Arkhangelsk region, putting out all traces of open fire on board, a law enforcement source told RIA Novosti on Friday.
The Oscar II class Orel submarine caught fire earlier on Tuesday during a scheduled overhaul at the Zvezdochka shipyard. The total area of the fire is estimated at about 40 square meters.
"The space between the hulls have been filled with foam, no signs of open fire are being detected," the source said.
The shipyard's press service alleviated fears that the open fire may spread to other vessels in the area because the nuclear-powered cruise missile sub "stands at a distance from other orders" and ships.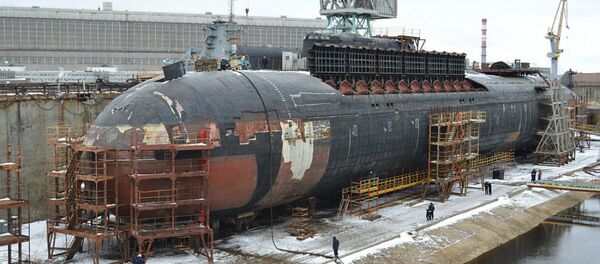 The flames did not result in any casualties among evacuated workers or crew members, according to Russia's United Shipbuilding Corporation. Its press service added the submarine's nuclear fuel has been unloaded when it arrived to the dry dock for maintenance, while the shipyard's spokesman confirmed there were no weapons on board.
Russian Navy Commander Adm. Viktor Chirkov told RIA Novosti he was closely monitoring the situation from the headquarters in St. Petersburg. A spokesman for the Defense Ministry said Rear Adm. Igor Zvarich, the Navy's technical department chief, has been dispatched to Severodvinsk to investigate the causes of the blaze.
Another law enforcement source later said the Orel may be partially submerged "in order for water to enter the space between the hulls," adding that heavy smoke is still observed at the site of the outbreak.