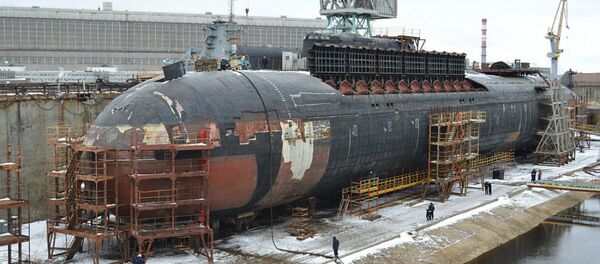 MOSCOW (Sputnik) — A decision has been made to partially submerge a nuclear attack submarine at a shipyard in northwestern Russia to completely extinguish the fire on board, the United Shipbuilding Corporation (USC) said Tuesday.
The Oscar II class Orel submarine caught fire earlier in the day during a scheduled overhaul in a dry dock at the Zvezdochka shipyard. The total area of the fire is estimated at about 40 square meters.
"The preparation for filling the dry dock with water is underway. The operation is necessary to extinguish the fire completely," USC spokesman, Ilya Zhitomirsky, told RIA Novosti.
The shipyard's representative said that normally this process would take up to eight hours, but since the situation is urgent it would take about five.
According to earlier reports, firefighters have filled the space between the hulls of the boat with foam, putting out all traces of open fire on board.
Earlier in the day, the USC said the fire had not resulted in any casualties among the evacuated workers and crew members.
The corporation's press service added that the submarine's nuclear fuel has been unloaded when it arrived to the dry dock for maintenance, while the shipyard's spokesman confirmed that there were no weapons on board.