In an interview with Kosovo broadcaster Klan Kosova, Mr Rama spoke about the urge for Albanians to unite with the majority-Albanian province of Kosovo, which controversially declared its independence from Serbia in 2008.
Both Albanian and Kosovar leaders had previously spoken of their desire to unify under the EU, where the free movement principle would allow people and goods to move unrestricted through the region. 
"The unification of the Albanians of Albania and Kosovo… is inevitable and unquestionable," he said.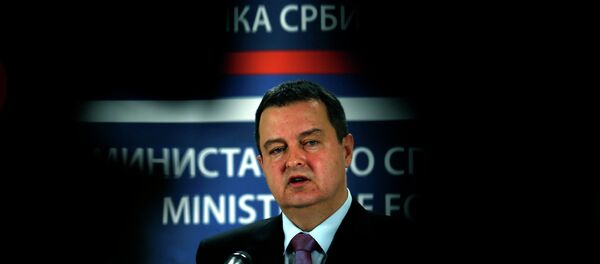 Despite continuing calls for Albania and Kosovo to be included in the EU, Rama said he was in support of unification, even if it wasn't approved or ratified by the bloc.
"The question is how it will happen. Will it happen in the context of the EU as a natural process and understood by all, or will it happen as a reaction to EU blindness or laziness."
Albania, Kosovo Will 'Never Unite' — Belgrade
The comments drew a quick reaction from officials in Belgrade, who were unimpressed with talk of an "inevitable" unification.
The issue of Kosovo's independence has been an ongoing source of tension between Serbia and Albania in recent years, following Kosovo's decision to succeed in 2008.
Serbia was vehemently against Kosovo's declaration of independence and has since stated that it will never recognize it as an independent state, with many Serbs citing the significance Kosovo plays in the history of Serbia and the Orthodox religion.
An adviser to Serbian President Tomislav Nikolic said Rama should stop "banging the war drums" over the tense issue. Serbian presidential adviser Marko Djuric told a news conference:
"We warn the Republic of Albania to stop banging the war drums, to devote itself fully to respecting its international and good-neighborly obligations." 
Meanwhile, Serbian Prime Minister Aleksandar Vucic took to Twitter to express his anger at Mr Rama's comments, saying Albania and Kosovo would "never unite." 
"I ask Albanian leaders to stop inciting instability in the region," Vucic tweeted.
The Paranoia of Greater Albania
The latest comments are sure to inflame fears in the Balkans of further Albanian expansion, with many commentators highlighting the concerns of neighboring countries in regards to Albanian borders.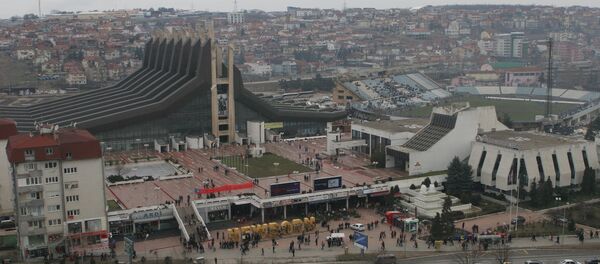 13 February 2015, 13:11 GMT
Critics of Albania have accused the country of pushing an aggressive, nationalist, expansionist agenda calling for the creation of 'Greater Albania' — a state consisting of all ethnic Albanians — which has increased tensions in the region.
This fear, dubbed as the 'paranoia of Greater Albania' was heightened in recent years with former Prime Minister Sali Berisha speaking of 'Albanian lands,' consisting of significant parts of Macedonia, Montenegro, Serbia and even some small sections of Greece.
Despite these concerns, Albanian PM Rama has repeatedly refuted the suggestion that the creation of a 'Greater Albania' is an agenda of his ruling party, or any major party involved in Albanian politics, labeling it merely a "fear" held by some sections of the Serbian population.