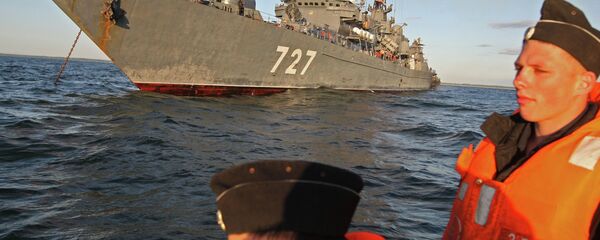 The Russian Defense Ministry will soon order the construction of two ocean-class small corvettes, Ministry Deputy Head Yury Borisov told journalists Friday.
Over recent years, the Russian Navy has increased its activities in the global ocean.
Russia will not "brandish its arms, but it restores its positions in order to curb any possible threats to its national security," according to Navy Commander Admiral Viktor Chirkov.
"Now we will study and place orders for small corvettes," Borisov said.
Admiral Chirkov, in his turn, announced that the new vessels will have the same weapons and military equipment as a small missile ship usually has. However, "they will be a bit different in the specifications of ocean and sea navigation," according to him.
He also underscored that the number of new missile carrying vessels will totally correspond to the national security requirements.
"Now we are making progress in the field of long-range missiles. They will be installed on naval ships to hit coastal and ground targets," the admiral said.