GENEVA (Sputnik) — Yemen is currently involved in a civil war between the Houthi militant group and forces remaining loyal to the current government. The Houthis took control of the country's capital Sanaa, forcing president Abd Rabbuh Mansur Hadi to flee the country.
International Organization for Migration (IOM) spokesperson Joel Millman commented on the grave situation:
"The situation in Yemen continues to deteriorate rapidly. Civilian populations have been affected by air strikes and other armed actions in 14 out of 21 governorates. Initial unverified estimates suggest that over 100,000 individuals have been internally displaced as a result of the conflict."
Millman added that IOM is awaiting the landing of its plane to evacuate out of Sanaa approximately 170 foreigners in Yemen.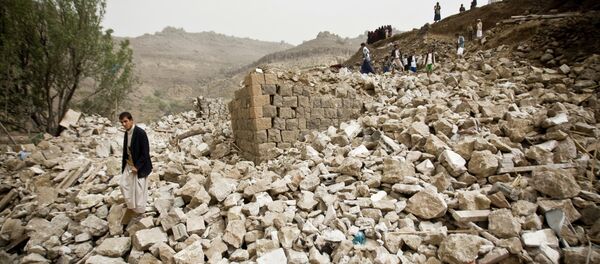 Earlier this week, IOM also received requests to support the humanitarian evacuation of over 13,000 nationals from 38 governments, a major percentage of whom are from Egypt, Sudan, Bangladesh, as well as the European Union.
A total of 643 people have been killed and 2,226 injured since the Yemen conflict escalated on March 19, recent World Health Organization (WHO) estimates show. According to the report, more than 254,000 have been registered as refugees as a result of violent clashes in the crisis-hit Arab country.
An international coalition led by Saudi Arabia has been carrying out airstrikes against Houthis in Yemen since March 26, following a request for military assistance from president-in-exile Hadi.