Delonte' Martistee, 22, of Bainbridge, Georgia, and Ryan Austin Calhoun, 23, of Mobile, Alabama, are facing charges of sexual battery by multiple perpetrators.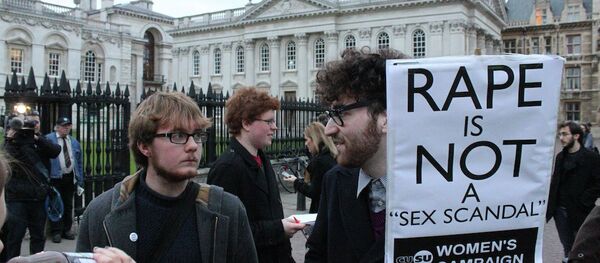 13 January 2015, 09:03 GMT
Bay County Sheriff Frank McKeithen said he expects more arrests in the case.
McKeithen said the video appears to show a 19-year-old victim incapacitated on a chair behind the Spinnaker Beach Club while she is assaulted by multiple men in broad daylight, as hundreds of witnesses watch without interfering to stop the attack or alert the authorities.
"Within 10 feet from where this is happening there are hundreds, hundreds of people standing there watching, looking, seeing, hearing what is going on, and yet our culture and our society and our young people have got to the point where obviously this is acceptable somewhere, but I will tell you it is not acceptable in Bay County," McKeithen told reporters.
The Troy Police Department on April 2 discovered the video on a cell phone belonging to someone who witnessed a recent shooting. The department then turned the footage over to the BCSO, which proceeded with an investigation.
The victim on the video told investigators she may have been drugged and did not report the incident because she could not remember it.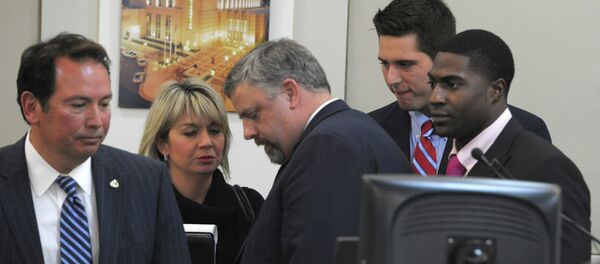 27 January 2015, 15:53 GMT
"This is disgusting," McKeithen said. "We have got to get control of our beaches. It is not safe for our children to be out there on the beaches when these animals are out there."
McKeithen called the video "one of the most disgusting, repulsive, sickening things" that he's seen on Panama City Beach this year.
Earlier this week, the BCSO held a press conference bringing attention to the amount of fire arms and drugs confiscated in Panama City Beach during this year's Spring Break. According to the office, the number of guns taken into evidence this year was 49 – up from nine in 2014.
"You need to wake up and see what's going on," McKeithen said. "This is what we see every day."
McKeithen has been pushing for stricter Spring Break ordinances including banning alcohol from the beaches and parking lots. These measures will be among the talking points at upcoming meetings between the Bay County Commission and the Panama City Beach City Council. 
"I've asked for help, I've asked for changes more than one year, more than two years," McKeithen said. "We've asked, we've asked, people talk, people talk, people promise, and nothing gets done."