BEIRUT (Sputnik) – The Saudi-led coalition has targeted the Sanaa residence of Yemeni President Abd Rabbuh Mansur Hadi with airstrikes as the counter-Houthi operation continues in the country, a military source has told Sputnik Arabic.
"Strong explosions rocked over the territory of the presidential residence in central Sanaa," the anonymous source informed in the early hours of Wednesday.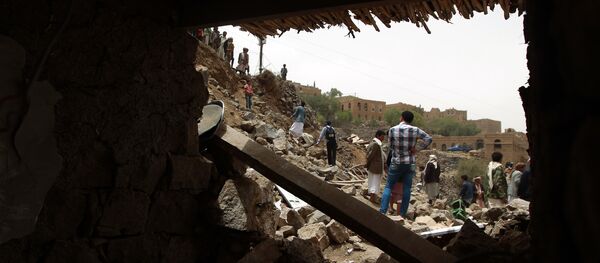 Earlier, coalition airstrikes hit the Sanaa International Airport (El Rahaba Airport), the Yemen Air Force headquarters located close to the airport and the al-Daylami air base not far from the capital.
According to military data, the Decisive Storm operation conducted by the international coalition in Yemen following Hadi's request for military support has so far destroyed 1,200 civilian objects and 72 educational institutions as it targets the Houthi rebel positions across the country.
Houthis have taken control of various parts of Yemen, including the capital Sanaa. They forced the Yemeni government to resign in January. Hadi withdrew his resignation after escaping from house arrest to the southern port city of Aden. At the end of March Hadi left Yemen for Saudi Arabia.