MOSCOW (Sputnik) – A war between Russia and Ukraine is impossible, Russian President Vladimir Putin said in a televised Q&A session Thursday.
The president said:
"I assume that this is impossible."
"Will there be a war?" Scared woman in region neighboring Ukraine asks. "No. I'm saying that because it is impossible." — Putin

— Natalia Antonova (@NataliaAntonova) April 16, 2015
The Russian leader recalled the incidents when the shells from the territory of the war-torn Ukraine fell on the Russian territory.
"But I assume those were just incidents and not attempts to damage our [Russian] citizens and infrastructure from the neighboring territory," Putin elaborated.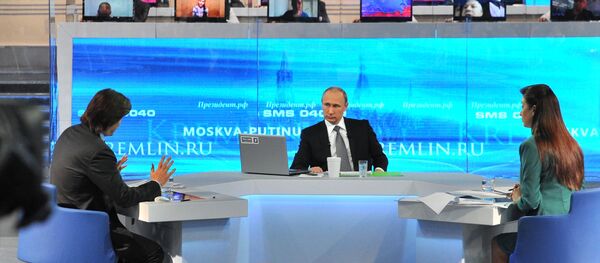 Relations between Moscow and Kiev deteriorated dramatically in 2014 following Crimea's reunification with Russia and beginning of a military conflict in Ukraine's eastern regions of Donetsk and Luhansk a year ago.
Despite the fact that 96 percent of Crimeans voted in favor of reunification, Kiev and the West have labeled Crimea's secession from Ukraine illegal and started introducing sanctions against Russia.
The military operation in Donbas escalated the tensions between the two countries, as Kiev alongside the United States and the European Union accused Russia of arming independence supporters in Ukraine's east. Moscow has repeatedly denied the claim, stating that there is no military solution to the Ukraine crisis.