The documents obtained through a Freedom of Information Act (FOIA) request made by by CNN divided the citizens of St. Louis into two categories — "friendly forces" and "enemy forces" or "adversaries."
"It's disturbing when you have what amounts to American soldiers viewing American citizens somehow as the enemy," Antonio French, an alderman in St. Louis, told CNN.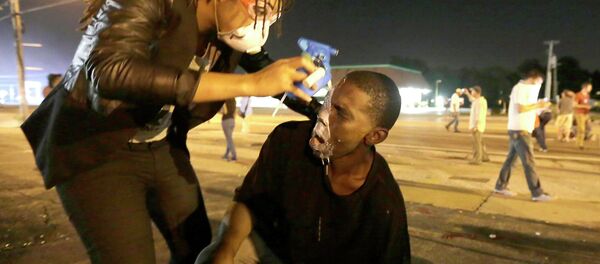 Commanders were briefed with troops' intelligence capabilities so that the guard would be prepared to "deny adversaries the ability to identify Missouri national guard vulnerabilities," which the "adversaries" might exploit, "causing embarrassment or harm" to the force.
"Adversaries are most likely to possess human intelligence (HUMINT), open source intelligence (OSINT), signals intelligence (SIGINT), technical intelligence (TECHINT), and counterintelligence capabilities," the briefing reads.
The guard was also deeply concerned about their image, emails show, as Colonel David Boyle, the Army chief of staff at the Missouri National Guard, sent out an email two days after the guard was deployed warning of the consequences of using language that could be "construed as potentially inflammatory."  Another email was sent to commanding officers stating that references to "the enemy" must be changed out to "criminal elements" in all future communications.  
Captain of the National Guard John Quinn defended the militarized language being used to describe American citizens, by stating that the term "enemy forces" is better understood to mean "potential threats."  
Apparently, when the guard isn't busy assisting local police in using weapons of war on the American people, they also spend their time rewriting the dictionary.