MADRID (Sputnik) – The proposed free trade agreement between the European Union and the United States, is a threat to BRICS countries, as well as other economic partnerships worldwide, Lola Sanchez, a member of the European Parliament from Spain, told Sputnik.
"The TTIP is a threat to BRICS," Sanchez said, talking about the alliance of Brazil, Russia, India, China and South Africa.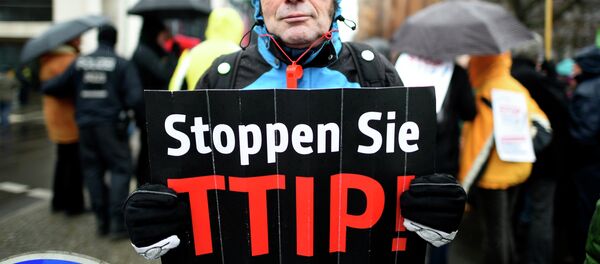 Sanchez said that the agreement would obstruct other economic partnerships around the world and was hardly a logical move, given the trade between the United States and the European Union already accounted for 50 percent of the world trade.
She said the TTIP would entail a wave of privatization, which would be used to drain money from public services should they be privatized.
The United States is also negotiating the Trans-Pacific Partnership (TTP) agreement, with talks being held with a number of countries of the Asia-Pacific region, including Canada, Japan, Australia, Mexico, Peru and Singapore, among others.

According to Sanchez, the TTP agreement, just like the TTIP, aimed to create obstacles for BRICS.
Activists around Europe are set to protest against the TTIP on Saturday. The advocates of the deal say it could benefit the economic growth in both regions, but the opponents say it will make it harder for Europe to regulate markets.
According to the European Commission's website, the TTIP will help generate jobs and growth in the European Union and cut prices while providing a wider variety of goods. It is also deemed to help Europe influence world trade rules and project its values globally.