MOSCOW (Sputnik) — The British supermarket chain's newly-appointed chairman said European businesses would seriously reconsider their London headquarters if the Conservative government went ahead with the referendum regardless of the outcome.
If there's an EU referendum, a leave vote should need an overall majority across the UK, and in each individual country also #bbcqt

— Rob (@LanaDelRob) 9 апреля 2015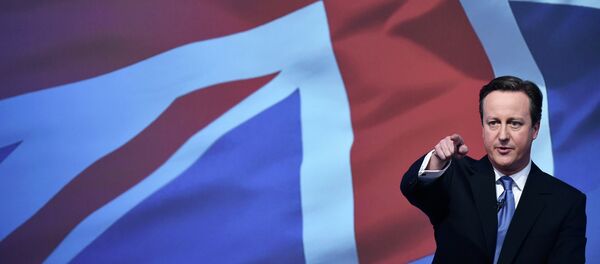 "Logically, you would have started with 'these are the reforms we would like to see enacted within the EU' and then determine whether or not you've made enough progress [to] decide if a referendum is necessary," Allan told the Independent in an interview.
On Saturday, Philips CEO Frans van Houten told the Telegraph the Dutch electronics and technology company "would have to think carefully" about its investment in the UK should it exit the European Union in 2017.
Tesco's Allan, meanwhile, stressed that "the cart is very firmly before the horse."
Trackers measuring public support ahead of the May 7 General Election pit the incumbent Conservatives in a close race with the Labour Party.
The United Kingdom Independence Party, a champion of the Eurosceptic view whose surge forced Cameron to pledge the 2017 referendum last year, is polling third.