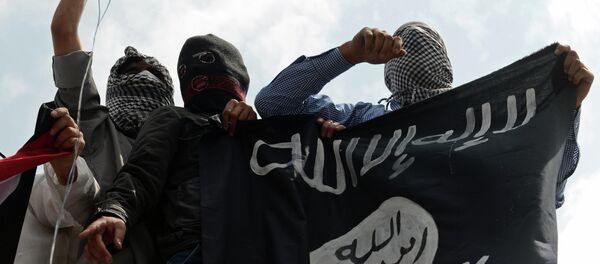 "We have received reports that the US planes visit the ISIL(-controlled) airports," Chief of Staff of the Iranian Armed Forces Major General Hassan Firouzabadi told reporters on the sidelines of military parades held in Tehran on Saturday morning to mark the Army Day, Fars news agency reported.
"The US shouldn't supply weapons and money to ISIL and then apologize and say that it has made a mistake. The Americans say that they want to confront the ISIL (but) we haven't seen any practical steps, only reconnaissance and surveillance operations," he added.
Warning of a "cruel wave of terrorism" that would sweep Europe, the US and all mankind in the near future, Firouzabadi said that people everywhere, including in the US and Europe, should try to fight terrorists instead of providing them with weapons and huge sums of money that has made ISIL the best-paid militant group around.
"If the US is honest in its statements that it has not created the ISIL, it can fight against it easily and we hope that the US and British governments will fight against the ISIL even for the sake of their own nations."
In Washington, meanwhile, lawmakers in both the Republican and Democratic parties are now calling on the Obama Administration to provide better accounting for the weapons the US is sending to Iraq, and which often wind up in the possession of the country's Shiite militias.