The seven-car maglev – short for "magnetic levitation" – train has been tested near Mount Fuji and managed nearly 11 seconds over 600km/h (373 mph).
The train uses an electrodynamic suspension system where superconducting magnets move it along its "tracks", called guideways, without touching the ground.
A series of coils installed along the walls of the guideways create a magnetic field which accelerates and stabilizes the maglev, while aerodynamic drag serves as a decelerating force.
JR Central wants to have a train in service in 2027 plying the 286km stretch between Tokyo and the central city of Nagoya.
Meanwhile China is set to push the limits even further.
Chinese researchers at the Applied Superconductivity Laboratory of Southwest Jiaotong University are testing their super-maglev concept claiming it could potentially be three times faster than an airplane.
Associate professor Dr Deng Zigang has developed a loop line where a train, encapsulated in a vacuum tube which decreases the speed limitations imposed by air resistance on regular maglev trains, could go at the speed of up to 2,896 km/h (1,800 mph).
The ETT (Evacuated Tube Transport) technology could be first applied in military and space launch systems.
This concept echoes another ambitious project — the Hyperloop of Elon Musk, the American entrepreneur who is best known as the founder of space transport services company SpaceX and electric car manufacturer Tesla Motors.
© AP Photo / Tesla Motors
Design sketch of the Hyperloop passenger transport capsule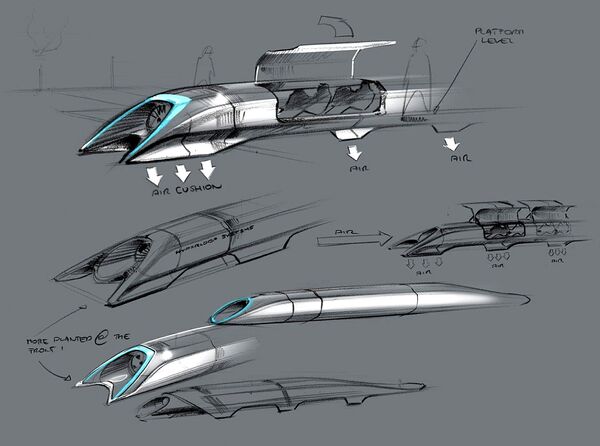 Design sketch of the Hyperloop passenger transport capsule
© AP Photo / Tesla Motors
In January, the US technology entrepreneur announced that he will be building a test track for his Hyperloop, a new step towards completing his much anticipated project.
Hyperloop, it is a transportation system that makes use of pipes, which vaguely resemble the pneumatic tubes, where users would be transported in pods.
© AP Photo / Tesla Motors
Hyperloop capsule with passengers onboard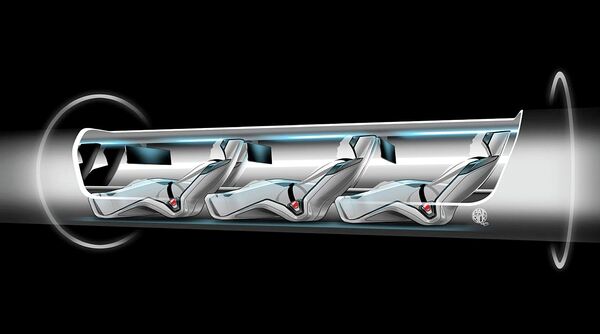 Hyperloop capsule with passengers onboard
© AP Photo / Tesla Motors
Fantastic it might seem, the Maglev concept was first proposed as a method to propel trains as far back as the mid- 20th century.
The first commercial maglev train to come into operation was a relatively low-speed shuttle at Birmingham International Airport in 1984, travelling at 42 km/h (26 mph).
It was not until the turn of the century, though, that high-speed maglev would come into commercial operation, mostly in Japan and China.
The world's fastest passenger-carrying train is currently the Shanghai Maglev Train, opened in April 2004, which can reach 431 km/h  (268 mph).