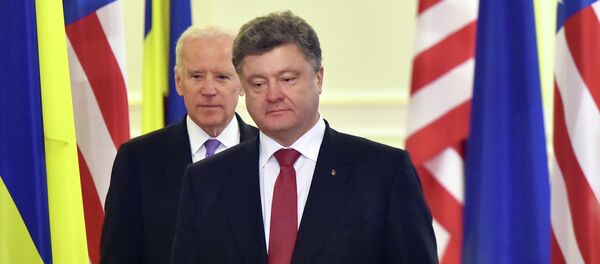 BRUSSELS (Sputnik)
–
The European Commission transferred on Tuesday 250 million euros (about $267 million) to Ukraine as the last part of the first 610-million-euro Macro-Financial Assistance (MFA) operation for the country.
"The objective of the MFA programme is to address Ukraine's urgent financing needs, while supporting Ukraine's economic stabilization and reform agenda," the EU Commission Monday press release said.
The press release stated that a second MFA operation for Ukraine, totaling 1 billion euros, was also disbursed in 2014. A third MFA operation of 1.8 billion euros, proposed by the Commission on January 8, 2015, and approved by the European Parliament and the Council last week, is projected to be implemented around mid-2015.
An additional 10 million euros were transferred Tuesday to Georgia as part of an MFA loan to this state.
Ukraine has seen over a year of political turmoil after major protests in Kiev resulted in the February 2014 overthrow of former Ukrainian president Viktor Yanukovich.
Refusing to acknowledge the legitimacy of the new government, residents of Ukraine's eastern Donetsk and Luhansk regions established so-called people's republics and declared independence. Kiev responded by launching a military operation in the regions in April 2014, which has killed over 6,000 people to date.
The standoff in the east has had a direct impact on the Ukrainian economy and the country's national currency has plummeted as the economy faces a looming default.
In March, the International Monetary Fund (IMF) approved its four-year $17.5-billion financial aid program for Ukraine. In exchange for loans, Kiev committed to implementing deep political, social and financial reforms to restore growth and improve living standards for the Ukrainian people.