MOSCOW (Sputnik) — The arrival of US servicemen to western Ukraine demonstrates that Kiev violates its obligations to remove all foreign military equipment and mercenaries from the Ukrainian territory, Russian Foreign Minister Sergei Lavrov told his US counterpart John Kerry in a phone conversation Wednesday.
"Lavrov noted that the arrival of servicemen from the 173rd Airborne Brigade and reports of Academy personnel joining the ranks of Ukrainian troops in Donbas demonstrate that Kiev violates its agreements to have all foreign formations, military equipment and mercenaries withdrawn from the territory of Ukraine," the Russian Foreign Ministry said in a statement on the results of the phone talk.
According to the ministry, the two officials discussed the bilateral cooperation and the schedule of the future contacts. The talks on the Iranian nuclear program and the situation in Syria and Yemen were touched upon.
Lavrov said Russia was open to constructive cooperation with the United States on the conditions of equality, respect for Russia's interests and refusal to make attempts to put pressure on Moscow.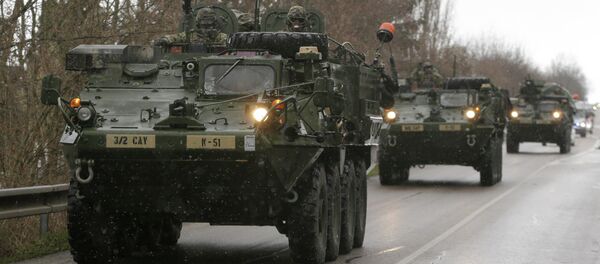 An armed conflict in southeastern Ukraine erupted in April 2014 when Kiev authorities launched a military operation against Donbas independence supporters. The West has accused Russia of supporting the Donbas militia militarily, while Moscow denied the allegations and said Ukraine was using the services of foreign fighters in the confrontation.
The United States, the United Kingdom and Canada have all expressed their intention to send their military instructors to Ukraine to train Kiev troops.