"The decree has been issued given the weighty roll of the Ukrainian Sich Riflemen in the revival of national military traditions, and their active role in the Ukrainian revolution of 1917-1921 and the formation of Ukrainian statehood at the beginning of the 20th century," a statement released by the presidential press service earlier this week explains.
The presidential decree calls for commemorative events to be held at Mount Makovka, in the nearby western Ukrainian city of Lvov, in Kiev and throughout the country. In addition to celebrations organized by youth organizations, authorities plan to hold conferences and lectures in the army, to rename army units in honor of the Riflemen, and to issue a postage stamp commemorating the victory.
Phantom Victory, by Anti-Ukrainian Forces


Between late April and early May 1915, Mount Makovka saw heavy fighting between Austro-Hungarian forces, which had among their ranks 700 Ukrainian Sich Riflemen, and Imperial Russian forces. Commenting on the president's decree, Ukrainian media have declared that the heavy casualties taken by Russia at the battle of Mount Makovka resulted in the collapse of their offensive in Galicia, an assertion Russian historians have balked at.
Vasily Kashirin, the author of a 400 page monograph about the battle entitled "The Taking of Mount Makovka: The Forgotten Victory of Russian Forces in the Spring of 1915," commented on the Ukrainian president's decree for Russia's LifeNews. Kashirin noted that ultimately, the "decree does not match the historical facts. The buzz surrounding the imaginary victory of the Legion of Ukrainian Sich Riflemen at Mount Makovka does not amount to actual military history, but to the field of military-patriotic, nationalist propaganda." The expert noted that the battle actually resulted in a tactical victory for Russian forces, who successfully stormed the hill.
Russian and Western historians alike have attributed the collapse of the Russian offensive in Galicia in the summer of 1915 to the deployment of German forces from the Western Front to assist their exhausted Austro-Hungarian allies.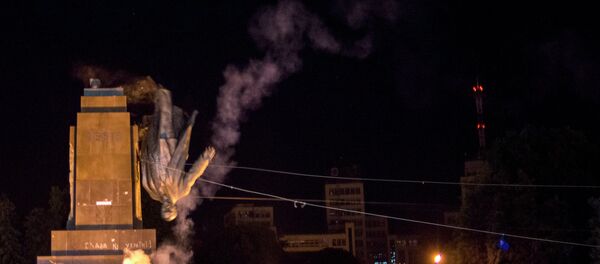 Observers commenting on the ridiculousness of commemorating the battle as a victory for Ukraine have also pointed out that a majority of Ukrainians served in the Imperial Russian Army during the First World War, with 3.5 million Ukrainians fighting for the Russian Empire, compared to the 250,000 who served Austro-Hungary.
Moreover, over the course of the war, tens of thousands of Austro-Hungarian Ukrainians suspected of Russophile attitudes faced repression and reprisals from Austro-Hungarian authorities, with over 20,000 imprisoned in concentration camps in Austria and territories which would later become the Czech Republic between 1914 and 1917. At least 3,000 people are believed to have perished in the camps due to poor conditions. With these facts in mind, celebrating the 'Ukrainian' victory at Mount Makovka seems rather absurd to most Russian commentators.