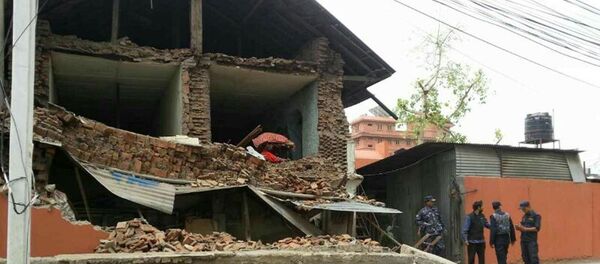 MOSCOW (Sputnik) — The earthquake happened about 82 kilometers (51 miles) northwest of Nepal's capital Kathmandu, where several buildings collapsed. Tremors could also be felt in Delhi and other northern and eastern Indian states, a Sputnik correspondent reports.
"Everything was shifting. Doors were jammed because of the force. I almost wasn't able to get out," a witness told Sputnik.
The death toll from a 7.8 magnitude earthquake that shook Nepal has reached 876, a local police spokesman said as cited by Agence France-Presse.
Kathmandu's Tribhuvan International Airport has been closed, according to local media.
According to the Times of India, the Delhi Metro temporarily stopped its trains amid the earthquake but has now resumed services.
Indian government has shown interest in helping Nepal after the country had been shaken by a powerful earthquake on Saturday that resulted in hundreds of deaths, Krishna Prasad Dhakal, deputy chief of mission at Nepal's embassy in New Delhi, told Sputnik.
"Indian government has shown interest to help Nepal in critical situation… We expect Indian support and help," the diplomat said.
According to Dhakal, the devastation to buildings and roads in Nepal is extreme, with Nepalese law enforcement organs aiding in rescue and relief operations.