"We must continue to go into space for the future of humanity," Mr. Hawking told an audience at the Sydney Opera House, where he appeared virtually, in holographic form. "I don't think we will survive another 1,000 years without escaping beyond our fragile planet."
Hawking was filmed in his office at the University of Cambridge, in the UK, and the footage was sent via San Jose for processing then on to Australia to create his image on stage. 
"He's worried about the future of the human race. You know, he thinks that human beings are, I suppose naturally aggressive," said Professor John Webb, the director of the lecture series at the University of New South Wales that made Hawkings talk possible.
"That may have been useful at some point in the early history of humanity enabling us to find food and get a partner and things like that, but he thinks that aggression that remains with us today is now the thing that could well end up destroying us."
"I think he's put a time on it to make us realise we've got to take better control of what we're doing."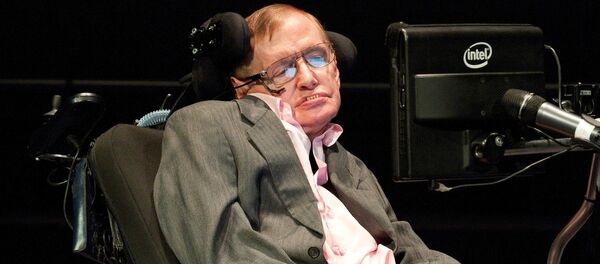 3 December 2014, 13:44 GMT
The 73-year-old, who suffers from motor neurone disease, addressed sold-out crowds at the Opera House both Saturday and Sunday. He touched on a wide range of topics like the nature of the universe, new discoveries about black holes, and other scientific questions, while peppering his talk with life advice. 
"I want to share my excitement and enthusiasm about this quest, so remember to look up at the stars and not down at your feet," Hawking said. "Try to make sense of what you see and wonder about what makes the universe exist. Be curious. And however difficult life may seem, there is always something you can do, and succeed at."
Little Hope for Humanity, Some Hope for One Direction 
Hawking touched on a similar idea about humanity's fate during a speech in London earlier this year, saying that he believes "that the long term future of the human race must be space and that it represents an important life insurance for our future survival, as it could prevent the disappearance of humanity by colonising other planets."
He also addressed what he called humankind's "ambivalent attitude" to science. 
"We have come to expect a steady increase in standard of living that science and technology have brought. But people distrust science because they don't understand it or feel they can control it."
He emphasized a better understanding of science so the public could make informed decisions about issues like the greenhouse effect, nuclear weapons and genetic engineering.
"The popularity of science fiction like Star Trek is because this is a form of science with which people feel safe, but an understanding of science fact would allay their fears … much better."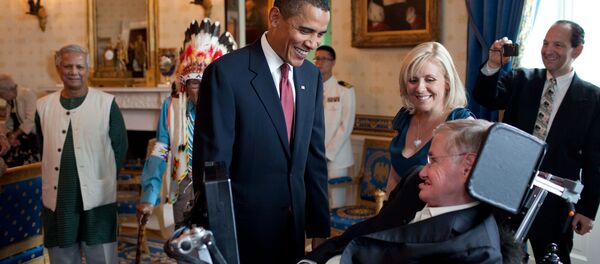 1 December 2014, 18:27 GMT
The physicist even had a chance to show off his sense of humor when he took the last question of the night. 
"What do you think is the cosmological effect of Zayn leaving One Direction and consequently breaking the hearts of millions of teenage girls across the world?" the moderator inquired, to audience laughs. 
"Finally, a question about something important, " Hawking answered, before using it to make a point about theoretical physics and the possibility of parallel universes.
"It would not be beyond the realms of possibility that somewhere outside of our own universe lies another, different universe and, in that universe, Zayn is still in One Direction."
And for those still hung up on the fate of humanity or those heart broken young girls for whom the idea of a parallel universe is no consolation, Hawking has always had advice for those darker moments too: