The Russian Space Agency's Mission Control has ended attempts to contact the Progress cargo spacecraft as it nears the station after three attempts failed.
"We didn't attempt to start the engines yesterday. Today, during Progress' scheduled pass of the Russian zone of visibility such an attempt was made for the first time, but it did not succeed," a source told RIA Novosti.
Because of the spin that the spacecraft has entered, the Progress craft cannot safely dock with the International Space Station (ISS). For unknown reasons, the craft went on an orbit lower than expected after launch and is unable to dock to the ISS.
"Unfortunately, yet another attempt [to contact the craft] ended with failure. Today and tonight there won't be any further attempts," a source told RIA Novosti.
"To be honest, only a miracle can save the ship. There is no telemetry, and the spacecraft has not been able to get out of its spinning and be stabilized, so a maneuver involving distance or manual docking is becoming extremely dangerous: the crew and the ISS could die," the source told RIA Novosti.
The future of the lost craft is also uncertain, although it is expected to enter the atmosphere to burn up in about a week.
"Full contact with the Progress will most likely not occur, therefore the cargo vessel may be designated as space junk threatening security," a source told RIA Novosti.
As a result of the failure, the next Progress M-28M mission will be launched before its scheduled August 6 launch date.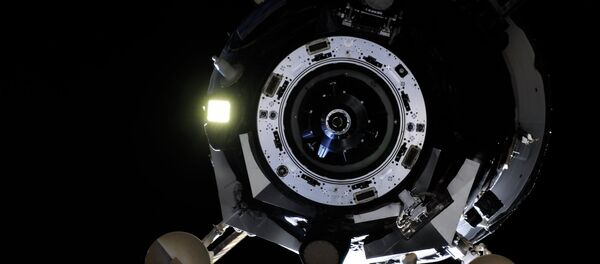 Progress took off from the Baikonur Space Center in Kazakhstan on Tuesday at 10:10 a.m. Moscow time (07:10 GMT) and was scheduled to dock with the ISS at 4:07 p.m. Moscow time (13:07 GMT) the same day.
Upon closing in on the ISS, the vessel's telemetry was unable to be received, and Mission Control switched to a 48-hour docking program.
On Tuesday a source in the Russian space industry told Sputnik that docking the Progress to the ISS is currently improbable using automatic controls and will likely require assistance by Russian cosmonauts.
The Progress cargo vessel is carrying fuel, oxygen, food and scientific equipment for the crew working at the ISS.