The Norwegian government is apparently in the throes of a military fever.

It has pledged to increase military spending by as much as half a billion dollars to boost its defense capability around its northern border with Russia to be able to withstand what it sees as the phantom "Russian threat."
The country's Defense Minister Ine Eriksen Soreide, said Norway would spend 3.6 billion kroner ($477 million) on building Norway's first anti-aircraft battery and modernizing its squadron of German-made Leopard 2 tanks, amongst other defense projects.
According to the local media, the country's defense experts have been recently calling for "more troops and better capabilities close to the Russian border" fearing to be "a small neighboring country to a superpower with global ambitions."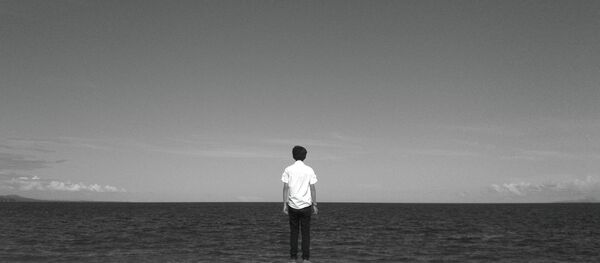 Meanwhile, it is Norway itself which has increased its arms exports, which are apparently used in conflict zones around the world.
According to recently released figures from Statistics Norway (SSB), nearly 80 per cent of the country's exports of military equipment in 2014 went to NATO countries, totaling NOK 1. 4 billion ($185 million), of which the USA accounted for 45 per cent.
© ssb
Screenshot from Statistics Norway website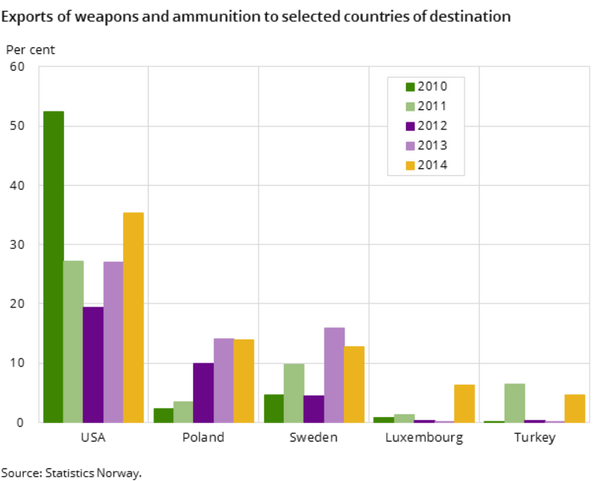 Screenshot from Statistics Norway website
As in 2013, the three largest recipients of Norwegian weapons in 2014, in terms of value, were the USA, Poland and Sweden.
The USA has long been the largest buyer of Norwegian weapons, and in 2014 these exports increased considerably.
In 2014, the country increased exports of bombs, grenades, ammunition and parts rather than military weapons.
© ssb
Screenshot from Statistics Norway website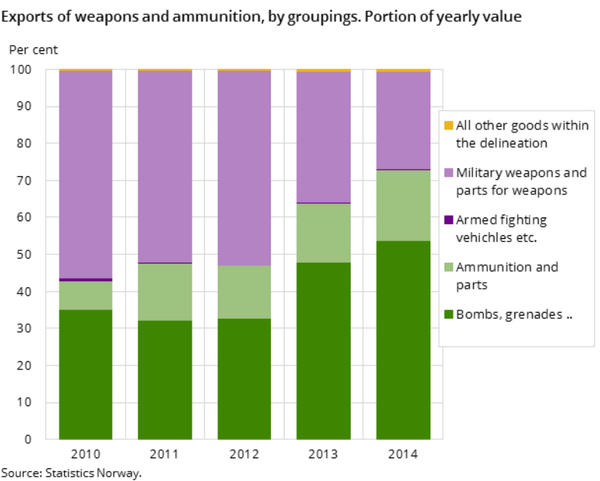 Screenshot from Statistics Norway website
The American-based public opinion research company Gallup recently conducted a survey on the rating of the leadership of five of the world's major powers, which are the US, China, Russia, the EU and Germany.
© gallup
Screenshot from Gallup research group website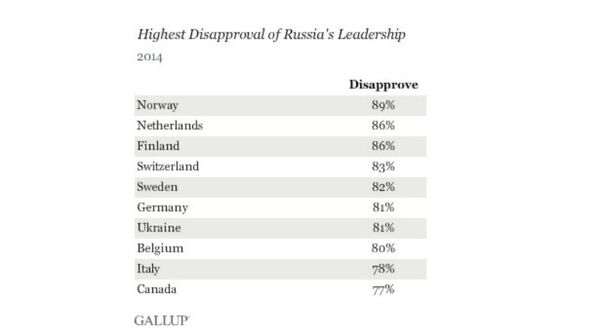 Screenshot from Gallup research group website
Interestingly enough, Norway topped the list of countries with an anti-Russian sentiment with 89% of those surveyed stating they disapprove of the Russian leadership.
The researcher suggests that the way the people in one country feel about another country can actually impact foreign policy.
While it does not seem like the relationship between Russia and the West is anywhere near what it was during the Cold War years, the emerging gulf in attitudes among their respective publics is certainly troubling.