The student, a Somali woman named Rawdah Abdisalaam, who was known under the Twitter handle @_UmmWaqqas was discovered to be working as a senior recruiter while living and studying in the coastal city. Reporters for Channel 4 News in the UK figured out she was based in Seattle by identifying background locations in photos she posted on her account.
Her Twitter account had multiple names like @Rawdah_Abdi and @Rodaa27 and she had 8,000 followers. It has since been deactivated.
Media had in the past speculated that she was Dutch or British. She was a shadowy figure, face never shown, who would be one of the last contacts potential recruits for the Islamic State would reach out to before crossing into their new life of combat.
But her Twitter account gave her away as she tweeted photos of football games (she's a Broncos fan) or pizza from the comfort of a major American city, all while encouraging young men and women to emigrate to the Islamic State's battle grounds. 
"I'm actually lost for words," one school friend who didn't want to reveal their name told Channel 4 News. "The Rawdah you are referring to is a childhood friend."
Friends confirmed that @_UmmWaqqas was Abdisalaam's account but that she had left Seattle, indicating to reporters she may have headed to Saudi Arabia, or to Denver, Colorado.
Among the content posted on the @_UmmWaqqas account was information on how to emigrate to Syria, commentary about watching extremist lectures and deciding to leave journalism to become a teacher, and IS training materials and videos. 
© Twitter (screen shots)
Some of the tweets on @_UmmWaqqas' account reflected her interest in extremist lectures, her disenchantment with her journalism studies, and her excitement over Denver Broncos football.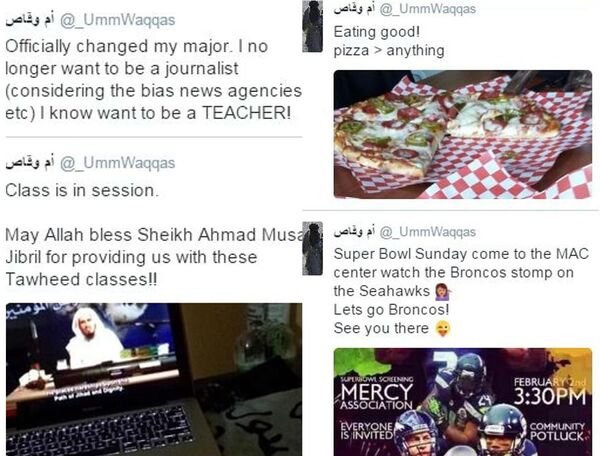 Some of the tweets on @_UmmWaqqas' account reflected her interest in extremist lectures, her disenchantment with her journalism studies, and her excitement over Denver Broncos football.
She also tweeted support after the shocking filmed murder of the Jordanian pilot who the Islamic State burned in a cage —  "an eye for an eye if you ask me!"
Her contact details are also reported included in a travel "guidebook" for new recruits. @_UmmWaqqas' account was particularly popular among women and she was known to have been in touch with, and often mention, "Umm Layth," another name for  Aqsa Mahmood, a girl from Glasgow who joined the Islamic State in 2013, and the public Twitter exchanges show they maintained contact after Mahmood arrived in Syria. 
It's been clear since the Islamic State burst onto the scene with territorial gains that took Western powers by surprise that they had a novel, and effective social media strategy combining a seemingly inexhaustible network of twitter accounts with slickly produced recruitment and propaganda videos.
Some have likened the discovery to the unmasking of Shami Witness — a popular ISIL account with 18,000 followers that was eventually traced to an executive in Bangalore, India. Both highlight the tricky nature of social media recruitment, where voices can be amplified even by those far from the fighting or even any association with the Islamic State.
Recently it has been European countries that were concerned about radicalized young people fleeing to join IS — The UK has reported that around 600 of its citizens have travelled to join the fighting in Syria and Iraq.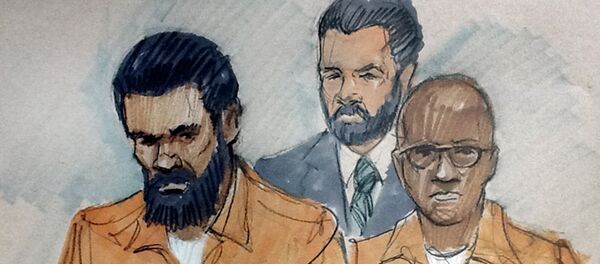 Earlier this month, however, six US militants were arrested by the FBI, demonstrating that the fight isn't so far away as to make the UNited States immune to its potential pull. @_UmmWaqqas was evidently in contact with a few of them. 
"I think that there would be enough information from what you've provided me that we would open a case," Seattle FBI's former head of counterintelligence told Channel 4 News in repsonse to the information reporters had gathered. 
"If the information we receive suggests she has gone beyond merely advocating for ISIS and actually assisting people to gain access that would become material support and we would open a case."