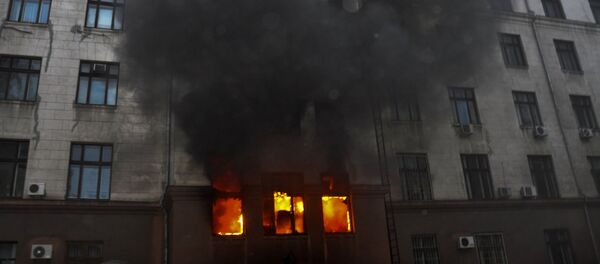 MOSCOW (Sputnik) — Saturday marks exactly one year since a blaze that broke out in the trade unions building in the southern Ukrainian port city of Odessa claimed almost 50 lives, becoming one of the heaviest single losses in the Ukraine conflict.
On May 2, 2014, Ukrainian ultra-right football fans attacked anti-Kiev protesters, camping in the square outside the trade unions building in central Odessa. The football hooligans were soon joined by Maidan activists, who supported the pro-EU February protests in Kiev, and members of the hardline Right Sector grouping.
The outnumbered anti-government demonstrators took shelter inside the trade unions building, where they became trapped by a mob that hurled Molotov cocktails through the windows, setting the monumental Stalin-era building alight.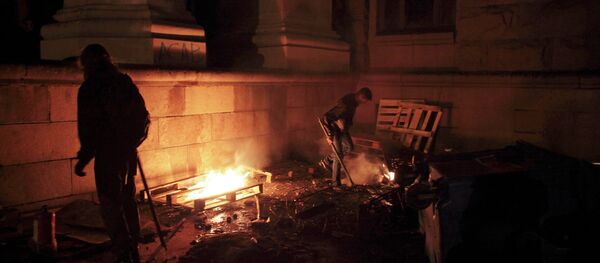 Tragedy struck as it was discovered that the fire hoses were out of order, obliterating any chances of those inside quelling the flames. Many people jumped to their deaths in an attempt to escape the inferno, while others were finished off by the crowd outside, according to eye-witness accounts. At least 48 people died, and more than 200 were injured in the fire and clashes, according to government estimates.
​​Since the day of the deadly fire, Russia has repeatedly called on Kiev to conduct a prompt and transparent investigation into the Odessa tragedy. It has also accused Ukraine of dragging out the inquiry.
Ukrainian investigators initially said that most of the deaths could have been caused by the victims inhaling toxic chloroform fumes from spills that had allegedly been uncovered inside the building. This claim was not investigated further and the inquiry went on for months without providing any conclusive results.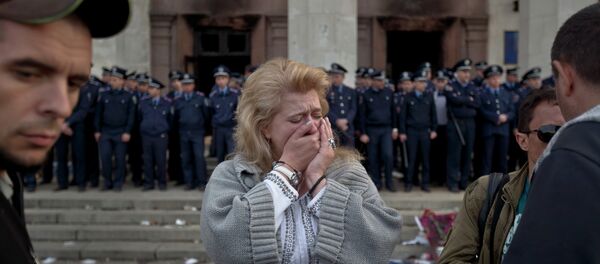 In September 2014, the Ukrainian parliamentary commission inquest into the Odessa massacre published its final report on the Ukrainian parliament's official webpage. It assigned most of the blame for the unrest that preceded the lethal fire to those burned alive.
One member of the parliament soon withdrew her signature from the document, claiming it had been heavily redacted after its signing. According to Odessa-based media outlets that claimed to have seen the original draft, the report was edited to avoid mentioning any of the leaders of the far-right groups who had called for the attack on the anti-government tent camp. The report also allegedly lacked some key witness statements.
Human Rights Watch's deputy chief for Europe and Central Asia, Rachel Denber, said last year that the tragic events in Odessa constituted grave crimes and required a serious and impartial investigation.