Fighting is taking place in the village of Shirokino in the Donetsk Region in eastern Ukraine, the Azov battalion reported on its Facebook page.
"A battle has been on in Shirokino for nearly an hour. The enemy is using 82 mm and 120 mm mortars, grenade launchers, heavy machine guns and light weapons against Azov positions. Azov fighters are holding their positions and striking back. We are checking data on casualties," the report read.
In mid-April 2014 a military conflict broke out in eastern Ukraine.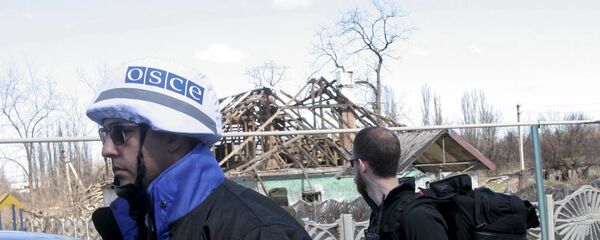 6,116 people were killed in the conflict from April 2014 to April 14 2015, according to a report by the UN. Additionally, 15,574 were injured in the conflict zone.
The settlement of the crisis has been discussed at various talks, including during contact group meeting in Minsk, Belarus. The February 12 meeting resulted in approving measures for the implementation of the Minsk agreements.
The agreements presume a ceasefire in Donbass since February 15, heavy weapons withdrawal and creation of a security zone.
Shortly after the ceasefire began in Donbass, fighting resumed in the region. Both sides of the conflict blame each other for numerous ceasefire violations. Each side has said it is only returning fire.