The fact that Russia bought another 30 tons of gold earlier this week, bringing its total gold reserves to 1,238 metric tons should make the United States worried, said Todd Wood, the author of the book "Currency" and a contributing writer at the Washington Times.
Wood claims that the current state of the US economy is troublesome, to say the least. While both Russia and China keep increasing their gold reserves, the United States has gathered an overwhelming sovereign debt due to foolish spending habits that will inevitably bring the US economy down, the author said.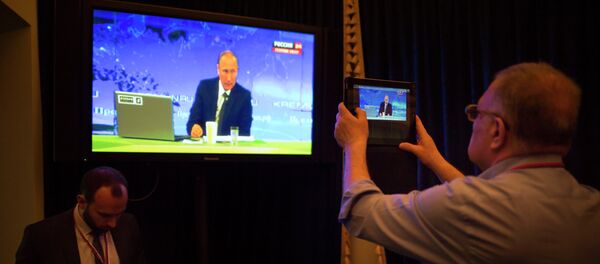 Russia is now the fifth-largest holder of gold reserves, according to the IMF. Moscow is increasing its gold reserves to strengthen the value of its own currency, the ruble. The smart move, Wood argues, adding that Russia is "preparing for the day when the tables will turn" and the world will see the decline of the Western economic power.
Unlike the United States, that has foreign debt approaching to $20 trillion, Russia's debt stood at $600 billion, as of January 1, 2015. This is 33 times less than that of the United States. Furthermore, US foreign debt keeps getting bigger and bigger; meanwhile, Russia managed to cut down its debt by 17 percent since last year.
Washington should be worried about this. Soon the US might wake up and find itself in a world, where it will be bankrupt, meanwhile Russia, which has a gold-backed currency, will then dictate the new rules of an economic realm.
"There will be serious, deadly consequences to our irresponsibility, which emanated from both party's lack of financial discipline," Wood said. "At some point the Federal Reserve will lose control of the bond market. Our fiat currency will only be worth the paper it is printed on. The top-heavy, Western, socialist, welfare-state societies will collapse under their own weight."
The United States is broke. The only thing keeping the US economy afloat right now is the US Federal Reserve that intervened to keep interest rates artificially low, Wood said.
The key question that remains to be answered is how long do we have until the unsustainable US economy collapses?