Instead of winning hearts and minds of nations and people all other the world, the United States, ruled by "war-obsessed government officials," has succeeded in "making new enemies at an alarming rate" and turning supporters away, he added.

America's involvement in the Middle Eastern conflicts has contributed to setting the region on fire. Radicals, including the Islamic State, al-Nusra Front and al-Qaeda, are on the rise "as a result of decades of oppression by foreign powers, including the US," according to Payne.
The activist warned that violence, flaring in Syria, Iraq and Yemen, "could easily spread to Pakistan, Somalia, Afghanistan and any number of other Middle Eastern countries. Take a bow, G.W. Bush, Dick Cheney, and Barack Obama."
Could your apes fight a little harder, please? America needs them to justify it's aggressive foreign policy. @RamiAlLolah

— roque laurio (@roquelaurio) 21 апреля 2015
But the Middle East is far from being the only region in the world, where attitudes towards the US are shifting in the direction of fear and hatred.
The US military presence is no longer welcome in some countries of the world, Payne said, citing several Latin American countries as an example. Protesters in Italy, South Korea and Great Britain rally against hosting US military installations on their land, Payne added.
"Even if the [US] is the most powerful militarily, if nations and people of the world no longer want its presence in their countries, there is little that Washington can do … about it," Payne wrote in an open editorial for the NationofChange news and activism organization.
Moreover, "there is an undercurrent of growing resistance against the US government and its overly aggressive military agenda" among NATO members, according to the activist. This does not really spell hope for the North Atlantic alliance, does it?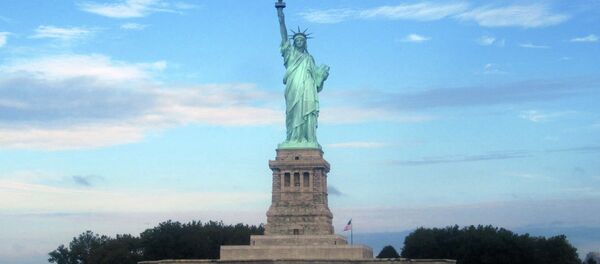 Meanwhile, some countries turn to BRICS, a dynamic force on the international arena, comprising Brazil, Russia, India, China and South Africa. According to Payne, it is a "growing consortium that, as one of its key objectives, intends to establish its own currency to eventually replace the U.S. dollar in world trade."
The activist warns that the US elite should act fast in reassessing its foreign policy approach before it is too late. If the country needs inspiration in its foreign policy soul-searching, it could take a closer look at China.
"While all we hear about the U.S. government is war and more war, what we hear about China is positive and constructive endeavors such as the initiation of numerous projects to build infrastructure in countries in Eurasia, Central Asia and other regions of the world. They have no time for war, they are too busy winning over new friends and making lasting alliances," Payne stated.