WASHINGTON (Sputnik) — The SM-3 Block IB is a kill vehicle that destroys ballistic missiles through high-speed impact; it will be deployed ashore in Romania in 2015.
"Under this contract action… Raytheon will deliver an initial quantity of 44 Standard Missile-3 Block IB all-up rounds and provide the work required to produce and deliver the third stage rocket motor reliability growth and design enhancements."

Raytheon noted that the US government intended to buy up to 52 of the missiles in total.
Under NATO's Ballistic Missile Defense (BMD) system plans, radars and interceptors will also be placed in NATO member states Turkey and Spain.
The United States will install an Aegis Ashore BMD complex in Romania in 2015, and a similar system in Poland by 2018, according to the US Missile Defense Agency.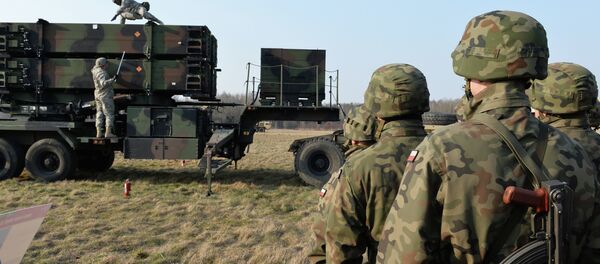 The Aegis system is the command and control as well as weapons control component of the BMD. The system identifies and tracks targets for destruction using advanced computers and radars.
Russia has repeatedly warned that the BMD in Europe is a threat to its national security. The United States and NATO said the BMD was not aimed at countering Russia's massive nuclear arsenal, but rather limited to intercepting a small number of missiles potentially launched from Iran, North Korea or rogue non-state actors.