Bill C-51, the so-called "anti-terror" bill, was introduced by Canada's ruling Conservative Party in the wake of two lone-wolf attacks in Ottawa in October 2014. If passed, the legislation would afford up to 17 Canadian agencies sweeping access to citizens' private information, including financial status, medical history, and religious and political beliefs.
© AP Photo / APTN, Pool
Canada Prime Minister Stephen Harper speaks during a televised address to the nation after October 22nd Ottawa attack.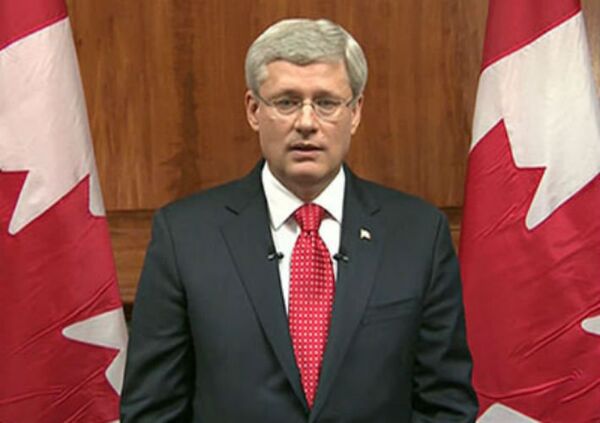 Canada Prime Minister Stephen Harper speaks during a televised address to the nation after October 22nd Ottawa attack.
The bill would additionally authorize the already vastly empowered chief security agency, the Canadian Security and Intelligence Service, to spy on both citizens and foreign nationals in the country. The Royal Canadian Mounted Police would also be granted increased power to make preventive arrests, which allows authorities to arrest an individual to prevent the occurrence of a crime.
Prime Minister Stephen Harper, who backs the bill, is anticipating an easy victory when the House of Commons makes its final vote, however, lingering public anger over the legislation may end up working against him in upcoming national elections this fall.
While many Canadians initially supported the bill, as it came in the aftermath of a harrowing terrorist attack, opinions have shifted following weeks of criticism from virtually every civil rights group in the country. Indeed, the proposed legislation has prompted criticism from a diverse array of voices, ranging from activists, to academics, and lawmakers.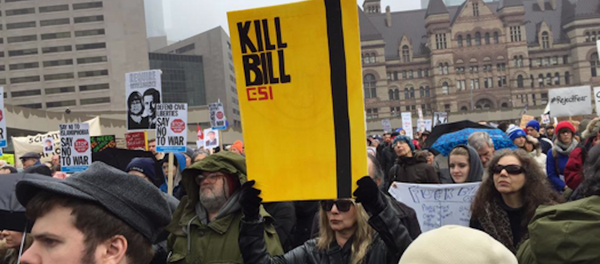 Opponents say the bill will violate Canadians' constitutional rights by allowing law enforcement to spy on civilians with little or no accountability. Canada's Daily Mail and Globe accused the Prime Minister of using fear mongering to push for a police state, saying that "Under the cloud of fear produced by his repeated hyperbole about the scope and nature of the threat, he now wants to turn our domestic spy agency into something that looks disturbingly like a police state."
Many public figures and civil liberties groups have united in their call to scrap the legislation. Canadian citizens have signed petitions against the bill and took to the streets on national day of protest last month. The movement has also sparked a social media campaign under the banners of #StopC51 and #RejectFear.
Prominent Canadian author Margaret Atwood took to Twitter to urge her local Parliament member to vote against the bill.
Digital police advocacy group OpenMedia is also urging citizens to contact their representatives and demand they vote against the legislation.
Writing in an op-ed for Rabble, OpenMedia communications director David Christopher said "This government has left Canadians with a stark privacy deficit, and we'll all need to work together to address it. We need a coordinated plan to roll back mass surveillance, and restore our traditional privacy and democratic rights."
Last week, Green Party leader Elizabeth May argued against the bill on the House of Commons floor, warning of its ramifications on the privacy of Canadians as well as their national identity. "This is not an ordinary bill and this is not about politics anymore," She said, "This is about the soul of the country and a question of whether we understand what Canada stands for – for ourselves and what we represent around the world."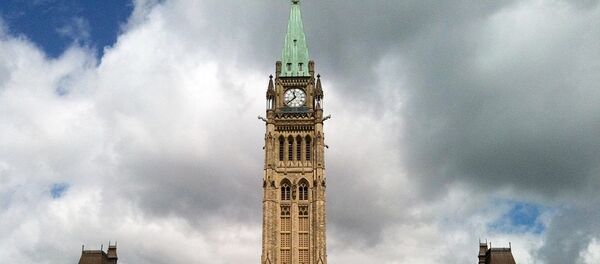 For their part, supporters of the bill have dismissed the criticism and have attempted to turn the table on opponents, accusing them of spreading "misconceptions" about the legislation.
Harper additionally accused opponents of being out of touch with Canadian values, saying that the bill was an appropriate measure to counter threats to the country's national security.
Similarly, Public Safety Minister Steven Blaney and Justice Minister Peter MacKay have said that the bill is a "reasonable and proportionate" measure against the threat of "jihadi terrorism." Blaney additionally lashed out against what he referred to as "so-called experts" for spreading the "completely false, and frankly ridiculous" claims that the legislation would clamp down on ordinary Canadians' privacy.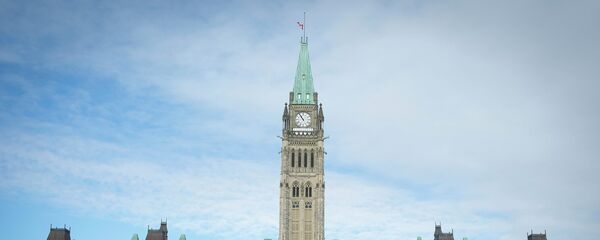 26 February 2015, 17:38 GMT
Based on the mounting and widespread criticism, however, it would seem that even if passed, opposition to the legislation will not wane, and will likely have important ramifications on the upcoming elections.
"It's incredibly irresponsible for this government to defy Canadians by ramming this unpopular legislation through," OpenMedia's David Christopher said, "Regardless of the outcome of the vote, as the election comes into focus, Canadians will remember which MPs endorsed this reckless and dangerous piece of legislation."